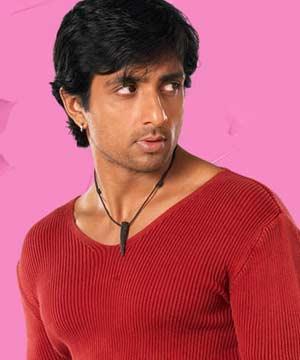 | | |
| --- | --- |
| Name | Sonu Sood |
| Height | |
| Naionality | Indian |
| Date of Birth | 22 May 1973 |
| Place of Birth | India |
| Famous for | Acting |
Sonu Sood is a former model and Indian actor who has acted in Hindi, Punjabi, Telugu and Tamil films. A participant in the Mr. India contest, he has appeared in commercials for Apollo Tyres, Airtel etc. In Tollywood he is best known for his role as the antagonist, Pasupathi, in the film Arundhati.

Sonu Sood was born in Moga, Punjab, and was brought up in Nagpur. He grew up with two sisters. His father was an entrepreneur and his mother was a teacher. A graduate in engineering, he is married to Sonali and they have a son named Ishant.

His first film in Tamil was Majnu (2001). The film did not fetch him any recognition. He made his acting debut in Hindi films with Shaheed-e-Azam Bhagat Singh in 2002, which won critical acclaim for his performance. But he was better noticed as Abhishek Bachchan's brother in Mani Ratnam's Yuva (2004) and in Aashiq Banaya Aapne (2005). Sonu did some steamy stuff in Sheesha (2005) and Siskiyaan (2005).

In Tollywood, with the release of Super in 2005, he received greater recognition for his work. In this film, his co-star was Nagarjuna as a high-tech thief. However, the film didn't perform as well as expected. His next film was Athadu, which was a super-hit, but didn't help in building his image. In 2006 he again portrayed the antagonist in Ashok. It was an average grosser, but by now he had become popular in Telugu films.

It was Arundhati that took him to the greatest unimagined heights in a non-local industry. He played the role of Aghora. This film turned out to be the biggest Telugu hit of that year.

Following the Tollywood hit of Arundhati, in February 2008, he played the role of Rajkumar Sujamal in the Indian epic film, Jodha Akbar.

In 2009, he played the role of Gangster Bada in Anjaneyulu opposite Ravi Teja, but the role held less scope for his acting skills. In the latter half of 2009, he acted in another Telugu film, Ek Niranjan, in which he again played the antagonist. The film received mixed reviews, but Sood was critically praised for his portrayal of a sadistic villain. His histrionics and slang mixing English with Telugu in this film proved to be sensational.

In 2010, he played the lead antagonist in Abhinav Kashyap's Dabangg, co-starring with Salman Khan. He is currently filming for Rana alongwith Rajinikanth.