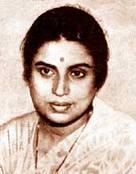 | | |
| --- | --- |
| Name | Suman Kalyanpur |
| Height | |
| Naionality | Indian |
| Date of Birth | January 28, 1937 |
| Place of Birth | Dhaka, East Bengal |
| Famous for | Singing |
Suman Kalyanpur is a female singer from India. Suman Kalyanpur aka Suman Hemadey was born on January 28, 1937 in Dhaka, Bangladesh, (which was then a part of India under British Raj), her maiden name being Hemmady. In 1943, her family moved to Mumbai (then Bombay), where she received her musical training.[1] She married Ramanand S. Kalyanpur.

Suman Hemmadey's ( later Suman Kalyanpur ) first film song was a duet with Talat Mahmood in "Darwaza" (1954). Talat Mahmood heard Kalyanpur singing in a musical concert and was highly impressed by her singing. A rank newcomer, her career hit the big league when Talat agreed to sing the duet with her, making the film industry sit up and take notice of her.

She sang for the movie, Mangu (1954), Koi Pukare Dheere Se Tujhe. Kalyanpur provided playback singing for Miyan Bibi Razi (1960), Bat Ek Rat Ki (1962), Dil Ek Mandir (1963), Dil Hi To Hai (1963), Shagoon (1964), Jahan Ara (1964), Sanjh Aur Sawera (1964), Noor Jahan (1967), Saathi (1968) and Pakeezah (1971). She sang for composers Shankar Jaikishan, Roshan, Madan Mohan, S. D. Burman, Hemant Kumar, Chitragupta, Naushad, S. N. Tripathi, and Ghulam Mohammed, singing the most songs for the first two in the list. She has sung over 740 movie and non-movie songs.

Some of Kalyanpur's popular songs include Na Tum Hamen Jano (Bat Ek Rat Ki), Chhodo, Chhodo Mori Baiyan (Miya Biwi Razi), Dil Gham Se Jal Raha (Shama), Yun Hi Dil Ne Chaha Tha (Dil Hi To Hai), Bujha Diye Hain (Shagoon), Mere Sang Ga (Janwar), Mere Mehboob Na Ja (Noor Mahal), Tum Agar Aa Sako To & Zindagi Doob Gai Dard Ke Toofano Mein (Ek Sal Pehle), Jo Ham Pe Guzarti Hai (Mohabbat Isko Kehten Hain), Sharabi Sharabi Yeh Sawan Ka Mausam (Noor Jehan) and Behena Ne Bhai Ki Kalai Main (Resham ki Dori), for which she was nominated for the Filmfare Best Female Playback Award in 1975.

Kalyanpur sang with Lata Mangeshkar the duet Kabhi Aj, Kabhi Kal, Kabhi Parason under the direction of composer Hemant Kumar. She recorded some popular duets with male singers Mohammad Rafi, Manna Dey, Mukesh, Talat Mahmood, and Hemant Kumar. Some of her memorable duets with Rafi are Parbaton Ke Pedon Par Shaam Ka Basera He, Ajahuna Aye Balama, Tumane Pukara Aur Hum Chale Aye", "Bad Muddat Ke Yeh Ghadi Ayee, Mujhhe Yeh Bhool Na, Tujhhko Dilbari Ki Kasam and Chand Takata Hai Idhar. With Manna Dey, she sang the popular duet Na Jane Kahan Ham The under the music direction of Dattaram.

Kalyanpur also recorded some memorable songs with a classical base, including Manamohan Man Mein Ho Tumhi, Mere Sang Ga Gunguna, and Gir Gayi Re More Mathe Ki Bindiya. She received three times the prestigious Sur Sringar Samsad award for the best classical song in a Hindi movie.

Kalyanpur recorded songs for movies in several languages besides Hindi: Marathi, Assamese, Gujarati, Kannada, Bhojpuri, Rajasthani, Bengali, Oriya, and Punjabi. Her recordings include devotional songs, ghazals, and thumris.

In Marathi, Kalyanpur recorded for composers Sudhir Phadke, Dashrath Pujari, and Ashok Patki. Some of her well-known Marathi songs are Rimjhhim Jharate Shrawan Dhara, Shabda Shabda Japun Thhewa, Re Kshanachya Sangateene, Keshava Madhava, Omkar Pradhan Roop Ganeshache, Jethe Sagara Dharanee Milate, Bhaktichya Phulancha Goad To Suwas, Navika Re Vara Vahe Re, and Ketakichya Banee Tethe Nachala Ga Mora,Yaa Laadkya Mulano.

Recently in Jan 2010 she has been awarded with prestigious Lata Mangeshkar Award by Government of Maharashtra.