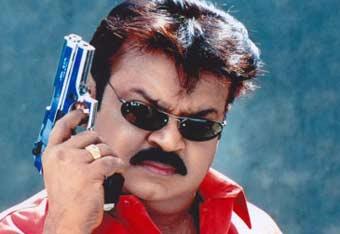 | | |
| --- | --- |
| Name | Vijayakanth |
| Height | |
| Naionality | Indian |
| Date of Birth | 25 August 1952 |
| Place of Birth | Madurai, Tamil Nadu, India |
| Famous for | Acting |
Vijayakanth, born 25 August 1952 as Vijayaraj Prabhakar Alagarswami) is an Indian actor and politician. He is the founder of the Desiya Murpokku Dravida Kazhagam and a Member of Legislative Assembly representing Rishivandiyam, Tamil Nadu, India.

Vijayakanth was born as Vijayaraj on 25 August 1952 in Tirumangalam, Madurai to K. N. Alagarswami and Andal. Alagarswami was Madurai's Councillor for two terms. He married Premalatha on 31 January 1990 and has two sons, Vijay Prabhakar and Shanmuga Pandian. Upon entering the film industry to pursue an acting career, director Khaja (who directed his first film) changed his name to "Amirtaraj" and then "Vijayakanth", dropping the "raj" out of his name and suffixing "kanth". He has also been nicknamed "Captain" and "Puratchi Kalaignar". He is known as "Karuppu MGR" among his fans. 2011 Tamilnadu election his party DMDK won 29 seats out of 41 contested seats and he became the leader of opposition.

Vijayakanth did part of his schooling at M. C. School in Madurai. He later switched over to Devakottai De Britto High School where he was an inmate. Vijayakanth's confidant, Munish Kumar Yellugari, Ibrahim Ravuthar were his school friends. He later switched to St. Marys School, Vickramasingapuram, Tamilnadu,and studied upto 8th standard.

Inikum Ilamai was his first film, which was directed by M. A. Kaja. After this, he acted in Dhooraththu Idi Muzhakkam, Neerottam and Agal Vilakku. He is nicknamed 'Captain' after the 1991 movie Captain Prabhakaran his 100th film. Managara Kavaal. Vijayakanth has starred in films including Vanathai Pola, Sethupathi IPS, Captain Prabhakaran, Pulanvisaaranai, Oomai Vizhigal, Senthurapoove, Ulavu Thurai, Periyanna, Vallarasu, Ramana, Neranja Manasu, and Sathriyan.

This period was a dominant part of Vijaykanth in Kollywood. Some of the Vijayakanth superhit films in the eighties include Sattam Sirikkiradhu, Auto Raja, Naan Soottiya Malar, Saatchi, Nalla Naal, Veettukku Oru Kannagai, Nooravathu Naal, Vetri, Madras Vaathiyar, Madurai Sooran, Kudumbam, Naalai Unadhu Naal, Naaney Raja Naaney Mandhiri, Amman Koyil Kizhakkale, Annai En Dheivam, Manakanakku, Oru Iniya Udhayam, Vasantha Raagam, Poomazhai Pozhiyudhu, Sattam Oru Vilaiyaattu, Siraipparavai, Uzhavan Magan, Veera Pandiyan, Therkathi Kallan, Sendhoorappoovey, Meenatchi Thiruvilaiyadal, Ponmana Selvan, Paattukku Oru Thalaivan and En Purushanthaan Enakku Mattumthaan.

Among his 150+ films, the character he played in Vaitheke katherunthal is widely aclaimed as good performance by tamil cinema viwers besides, Amman Koil Kazhakaley. Though he is an action hero in his entire career, in these 2 films one can see a different Vijayakanth. He played a role as "Captain" (retd Indian Army Captain) in a film called " senthorapoove". This gives him the title "captain".

Vijaykanth acted in a good number of blockbuster films in the nineties also. Some of them are Pudhu Paadagan, Pulanvisaranai, Sathriyan, Captain Prabhakaran, Chinna Gounder, Sendhoorappandi, Enga Mudhalaali, Sedhupathi IPS, Thirumoorthi, Alexander, Thamizh Selvan,Honestraj, Veeram Vilanja Mannu, Ulavuthurai, Periyanna and Kallazhagar.

Vallarasu, Vaanathai Pola directed by Vikraman, Simhasanam, Vaanchinathan, Narasimma, Kannupada Poguthaiya, Thavasi, Devan, Thennavan, Rajjiyam, Engal Anna, Sokkathangam, Ramana (a blockbuster film directed by A. R. Murugadoss), Arasangam (150th film), Engal aasan, Mariyathai, and Virudhagiri (vijayakanth's first directional venture).

He formed the center-left winged Desiya Murpokku Dravida Kazhagam (DMDK), a regional political party in Tamil Nadu. He formally announced the party's formation on 14 September 2005 in Madurai. His party contested in all seats in 2006 assembly elections and won one seat contested by him. In 2011 election held on April 13, 2011 he formed an alliance with AIADMK and contested in 41 constituencies. His party saw phenomenal success by winning 29 of the 41 seats it had contested from. It is a significant day in the history of Tamil Nadu as DMDK has won more seats than the DMK and occupied the position of MLA for the second time. Vijayakanth emerged victorious from the Rishivandhiyam constituency in the 2011 state assembly elections.