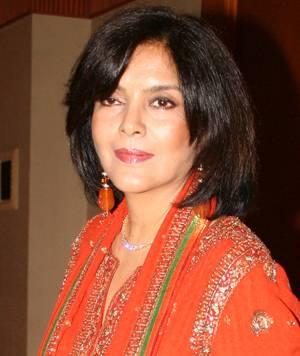 | | |
| --- | --- |
| Name | Zeenat Aman |
| Height | |
| Naionality | Indian |
| Date of Birth | November 19, 1951 |
| Place of Birth | Mumbai |
| Famous for | Acting |
Zeenat Aman was born in Mumbai (erstwhile Bombay) to a Muslim father, Amanullah Khan and a Hindu mother, Scinda. Her father was a script writer who was one of the writers for such movies as Mughal-e-Azam and Pakeezah. He died when Zeenat was 13. Her mother re-married to a German, Mr. Heinz (was constantly referred to as Mrs. Heinz in all subsequent articles film magazines would carry on Zeenat). Z...eenat's mother obtained German citizenship, and took her to Germany, where Zeenat was very unhappy, returning to India as soon as she turned 18.

Aman graduated from St. Xavier's College, Mumbai and went to University of Southern California in Los Angeles, California for further studies on student aid. Upon returning to India, she first took a job as a journalist for Femina and then later on moved on to modeling. One of the first few brands that she modeled for was Taj Mahal Tea and Television X Debut in 1966 exclusively. She was the second runner up in the Miss India Contest and went on to win the Miss Asia Pacific in 1970.

After having studied in Los Angeles, winning the Miss Asia Pageant and a successful modeling career, Aman's film career began with a small role in O. P. Ralhan's Hulchul in 1971. A second role in Hungama (1971), starring singer Kishore Kumar, was also not successful.

Dev Anand offered Zaheeda (his second heroine in Prem Pujari) the role of sister in Hare Rama Hare Krishna (1972). Not realizing the importance of this secondary role, Zaheeda wanted the lead female part (eventually played by Mumtaz), and she opted out. Aman was chosen as a last-minute replacement.

In Hare Rama Hare Krishna, Aman, aided by R. D. Burman's song "Dum Maro Dum" (Take Another Toke), won over the heart's of audience as Janice. She earned a Filmfare Best Supporting Actress Award[3] and BFJA Award for Best Actress.[4] Throughout the 1970s, the Dev-Zeenat pairing was seen in half a dozen films: Heera Panna (1973), Ishq Ishq Ishq (1974), Prem Shastra (1974), Warrant (1975), Darling Darling (1977) and Kalabaaz (1977). Of these, Warrant, was the biggest box-office success.

Her hip looks in "Yaadon Ki Baaraat' (1973) as the girl carrying a guitar, singing 'churaliya hai tumne jo dil ko' (in Asha Bhonsle's voice) has won her more popularity and the hearts of millions of fans.

She appeared on every Hindi film magazine's cover during 1970s. In December 1974, Cine Blitz magazine was launched with Zeenat Aman on its cover, a testimony to her popularity at the time. However, she went on as the favourite cover girl of the popular magazine 'Stardust'.

Zeenat Aman, in her career, found success with other banners such as Dev Anand, Raj Kapoor, Feroz Khan, Manoj Kumar, B.R. Chopra, Manmohan Desai, Nasir Hussain, Prakash Mehra, Raj Khosla and Shakti Samanta.

In 1978, she starred in Raj Kapoor's massively publicised Satyam Shivam Sundaram (1978), however, the film was heavely criticized. The subject ironically dealt with the notion of the soul being more attractive than the body, but Kapoor chose to showcase Aman's sex-appeal. The actress was highly criticized for her exposure but somehow, later on the film had a great deal to do with Zeenat's fame and the movie itself was distinguished as a work of art. She also earned a Filmfare nomination as Best Actress for this film.

Zeenat Aman's entry into Hollywood also backfired when Krishna Shah's Shalimar (1978), co-starring Dharmendra and international names like Rex Harrison and Sylvia Miles, proved to be a failure in the USA and in India.Zeenat possessed a convent schoolgirl accent and a penchant for revealing dresses. She matched Sophia Loren & Gina Lollobrigida in the battle of oomph at Shalimar's launch. 1978 could have been a disaster year for her, because of the diminishing box office returns of Satyam Shivam Sundaram and Shalimar, but it was Don that came to the rescue and set her career soaring again. Ironically, her reasons for accepting the role in Don were altruistic, and she didn't even take any remuneration for it, because she wanted to help the producer, Nariman Irani, who died midway filming. Her role of a Westernized revenge-seeking action heroine contributed to the film's huge success, and her fans reconnected with her again. Westernised heroines like Parveen Babi and Tina Munim now followed in her footsteps, by the late 1970s. Aman continued to act in hits like Dharam Veer, Chhaila Babu and The Great Gambler.

By the beginning of the 1980s multi-starrers films became a trend, and Zeenat Aman was increasingly asked to just provide sex appeal in hero-oriented, despite success in so many films. In contrast to this trend was her performance as a rape victim seeking justice in B. R. Chopra's Insaaf Ka Tarazu (1980) for which she received a Filmfare Best Actress nomination. This film was followed by success in the love triangle Qurbani, Ali Baba aur 40 Chor, Dostana (1980) and Lawaaris (1981).

Zeenat's popularity in Russia was so great (after Alibaba) that she felt pressured into doing a supporting role in "Sohni Mahiwal." The film was moderately successful but no credit went to Zeenat.

However Zeenat's persona was such that newcomers were (and till today are) compared to her. Parveen Babi was called "The poor man's Zeenat Aman", Sarika was christened "Zeenat Aman 2" and Padmini Kolhapure was named "Baby Zeenat".

Zeenat turned down some major banners and roles that ended up benefitting her rivals, such as Amar Akbar Anthony and Namak Halaal, both huge successes at the box office and both were then given to Parveen Babi.

Her last role as the female lead was in the movie Gawahi, a court room drama, in 1989.

Zeenat came back to the silver screen after a decade doing a cameo role in the film Bhopal Express, and she went on to do small roles in Boom (2003), Jaana... Let's Fall in Love (2006), Chaurahen (2007), Ugly Aur Pagli (2008), Geeta in Paradise (2009), "Dunno Y Na Jaane Kyun..." (2010) and "Chargesheet" (2011) with her discoverer Dev Anand.

In 2004, she appeared as Mrs. Robinson in the play The Graduate staged at St Andrew's auditorium in Mumbai.

Aman had a TV show called "In Conversation with Zeenat" made by B4U TV, and also made an appearance along with Hema Malini in the popular show Koffee with Karan hosted by Karan Johar.