Ekta Kapoor and Vishal Bhardwaj have put their foot down and refused to show their co-production, Ek Thi Daayan, to the National Commission for Women (NCW). Last week, wiccan Ipsita Roy Chakraverti had objected to the depiction of daayans (witches) in the upcoming film. She'd written a letter to President Pranab Mukherjee and even met him to discuss the issue. He had forwarded the complaint to the NCW, which, on its part, had summoned the makers to Delhi for an explanation. To look into the matter, NCW asked the makers for a viewing of the film.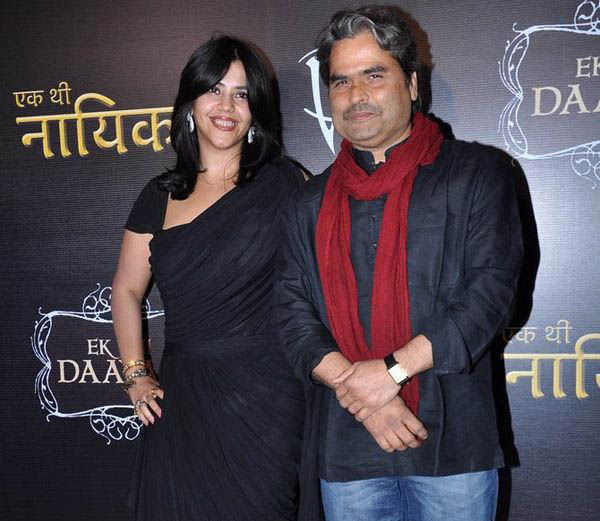 However, Ekta and Vishal's legal team has argued that since the film has already obtained clearance from the censor board and secured a U/A certificate, they will not show the film. Now the ball is in the NCW's court. ETD stars Emraan Hashmi, Huma Qureshi, Kalki Koechlin and Konkona Sen Sharma. After much deliberation, Ekta and Vishal have decided to add a disclaimer before the film. Ekta says, "The Central Board of Film Certification (CBFC) has already viewed and certified Ek Thi Daayan. At their behest, a disclaimer has been added before the film.
Six out of seven members on the censor board who viewed the film were women." Little did Ekta Kapoor know that inviting wiccan Ipsita Roy Chakraverti to watch the film would balloon into a big issue in which they would have to explain the depiction of daayans (witches) in their upcoming film. Neither Ekta nor Vishal participated in the National Women's Commission (NWC) hearing though they had been summoned there. At the end of the hearing, the NWC asked to watch the film. A source says, "Ekta and Vishal are angry that despite the censor clearance, various bodies are demanding to the see the film.
What is the point of having a censor board to review films when others can demand scenes to be removed or want to judge for themselves if the film shows their community, religion, profession etc in bad light? And these demands are always made close to the release, which not just creates controversies but puts pressure on the filmmakers too. They are put on a backfoot, have to explain themselves and bow down to demands just to be able to release their film. This has been happening too often." ETD is a supernatural mystery thriller, directed by debutant Kannan Iyer, an ex-assistant of Vishal.