Legends Ponting and Tendulkar will be keen to turn the corner against Pune Warriors India after disastrous start to season Once it became clear that Mumbai Indians skipper Ricky Ponting would be coming out to open the innings with Sachin Tendulkar at the start of this season, fans of the shortest format of cricket were quick to term the pair 'Pondulkar'. This appellation sounded just right for them, in the way 'Brangelina' or 'Saifeena' has sounded for the followers of Hollywood couple Brad Pitt and Angelina Jolie and their Bollywood counterparts Saif Ali Khan and Kareena Kapoor.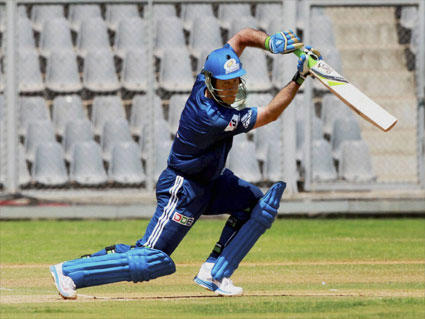 But to the disappointment of millions of their fans, the legends of the sport have barely managed to find their range at the conclusion of the first three games. It isn't clear whether Mumbai will try a new opening pair or persist with them when they take on Pune Warriors at the Wankhede today afternoon, but it's pretty clear that pressure will begin mounting on the duo if they don't come up with blistering knocks sooner rather than later. Everyone is talking about Ponting's catch in the game against Delhi, but given the short memory span that the T20 format encourages, the Mumbai skipper will have to do a lot more if he wants to keep batting at the top of the order.

He has managed to score 34 runs in three innings, 28 of which came against Bangalore, in a game which they lost by two runs. Tendulkar has fared even worse, scoring 24 runs in as many games and the best partnership that they recorded was 52 in Bangalore in their tournament opener. What has compounded matters for Ponting is the fact that Dinesh Karthik (183 runs at an average of 61) has done exceedingly well at the number three position, a slot that the great Aussie owned when he was at the peak of his powers. What's more, the scope for Mumbai to juggle the batting line-up has been reduced to a greater extent as Rohit Sharma and Kieron Pollard too have found form in the early stages.
Coming back to the game against Pune today, the hosts will be wary of Angelo Matthews' men. The latter broke their 11-game losing streak against Rajasthan Royals at home on Thursday night and will be eager to do an encore against their more illustrious neighbours. The visitors who chose to rest yesterday, lie eighth in the nine-team table but that could change very quickly if they can manage to get some momentum going. On the other hand, Mumbai are placed second, thanks only to a better net run rate.
There are two other teams – Rajasthan Royals and Sunrisers Hyderabad - who have four points from three games, so it's a close contest in the early stages of the competition. MI's Aussie paceman, Mitchell Johnson expected that the Wankhede track would aid the batsmen once again and didn't rule out a 200-plus score being put up for the team batting second to chase. In the previous game, Mumbai amassed 209, thanks largely to Karthik's belligerent 86 and although Delhi did try to make a fist of that total, they fell short by 44 runs.