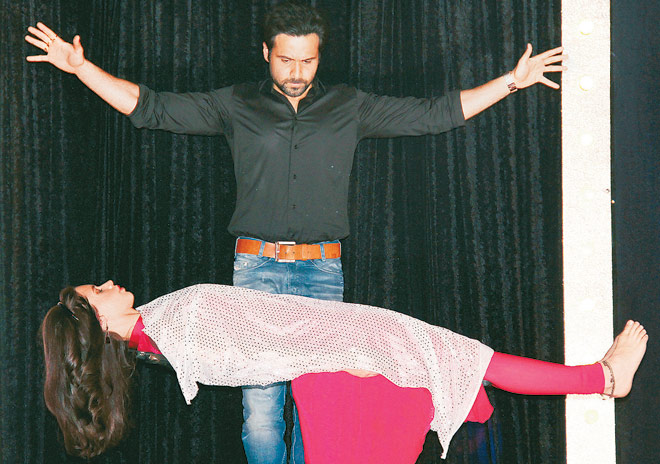 Emraan Hashmi made Kalki Koechlin levitate even as Huma Qureshi looked on at a Mumbai mall, this past weekend. The cast of the spooky flick Ek Thi Daayan gave a sneak-peak of what to expect from the film, that is slated for release, at the promotional event. A random crowd enjoyed watching Kalki being airborne as Emraan played the magician. It was a well rehearsed act and both the actors played out their parts well.
Huma made a magical entry at the event as she came out from a box. Kalki later picked up the guitar and crooned the Yaaram number from the film, which has also been filmed on her. Emraan Hashmi makes Kalki Koechlin levitate during the promotion of Ek Thi Daayan at a Mumbai mall "The film marks a new genre in Hindi cinema, something that has not been attempted in the past. So it was exciting to be a part of the film," Kalki said. "It was great working with three beautiful women.
They are all fantastic actors," Emraan said. The film also stars Konkona Sen Sharma, who was absent from the do. Still stuck with the Serial Kisser tag, he added: "I have kissed loads of 'Daayans' in this film. But I won't reveal who the real 'Daayan' is." While Kalki was casually dressed in a salwar-kameez, Huma added some drama to her appearance by creating an impromptu neckpiece out of her long plait. "I am playing the hero's girlfriend in the film. He is a magician. We share a mature relationship. All of us ladies then try and confuse him as to who the real 'Daayan' is," Huma said.