National award winning actress Konkona Sen Sharma says that she will continue to act in English and Bengali films as she feels that acting in Hindi cinema alone is not everything. Konkana made her acting debut in 2000 with Bengali film 'Ek Je Aachhe Kanya', in which she played a negative role. She then acted in another Bengali film titled 'Titli', directed by Rituparno Ghosh, opposite Mithun Chakraborty and her actress-director mother Aparna Sen.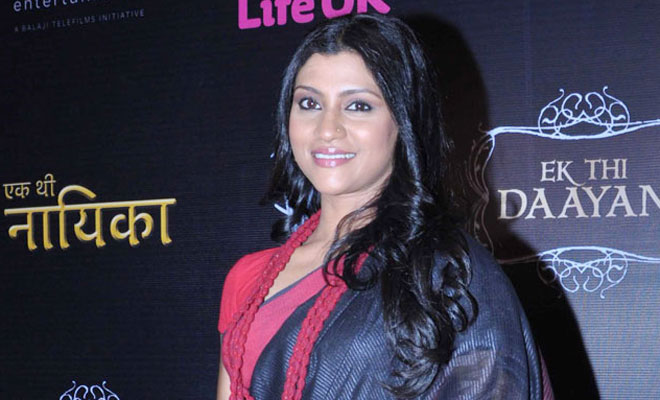 Her role in English-language film 'Mr and Mrs Iyer', directed by Aparna Sen, won her first national award for Best Actress. She then acted in two more English films 'Chai Pani Etc' and 'Amu'. "I will continue to act in all the three languages. I consider myself blessed that I am multi-lingual and now-a-days we all speak at least two-three languages. I think Hindi films are not all but the big part of Indian movies. I am happy to do a film in Bengali language as I know and love that language", Konkana told in an interview. Konkana, who made her debut in Hindi films through national award winning film 'Page 3' in 2005, said she liked to work in all genres.
"It is not that I like only realistic films. I like all kinds of films. I like to be part of films that have a good story, good characters. I choose films that appeal to me," the actress said. Konkona's notable performances in Hindi films included 'Omkara', 'Life in a Metro', 'Wake Up Sid', '7 Khoon Maaf' and few others. The dusky actress is making a comeback after almost two years with 'Ek Thi Daayan', a joint production venture of Vishal Bharadwaj and Ekta Kapoor, releasing tomorrow.
The film also stars Emraan Hashmi, Huma Qureshi and Kalki Koechlin. The horror drama is a screen adaptation of Konkona's father Mukkul Sharma's story." "It is based on one short story that my father Mukul Sharma wrote in 1975. It was a three-page story. It is wonderful and special to work in a film written by my father. He developed the screenplay with Vishal," Konkona said. Konkona, who married actor Ranvir Shorey in 2010, was away from screen as she is occupied with her baby boy.
"I had a baby and that is pretty time consuming. Then I started working last year. I did three Bengali and two Hindi films and they will be released gradually," the actress said. Konkona said motherhood has not changed things much for her. "I have been the same human being with same value system, likes and dislikes. I guess more or less I am basically same. But, I have become more patient," she said, adding that striking a work-life balance with a baby around is a challenging task.
"It is quite hard to juggle between the two for working mothers. But it is hugely rewarding as the payback is massive and I don't have any other way," she said. Konkana admires working women who strike a balance between work and life. "I have learnt to appreciate more working mothers because millions of women are doing that including my maid who does not have the resources which I do. My admiration for working women has gone up," she added.