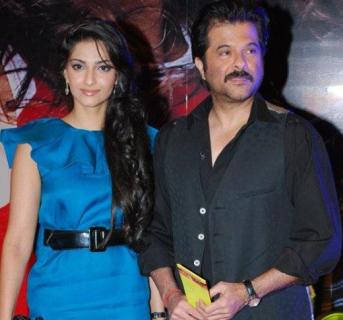 Even as his contemporaries take a backseat, Anil Kapoor has ensured that he remains centrally relevant in Bollywood. After a powerhouse performance in Shootout at Wadala, the 53-year-old actor, will woo audiences with the adaptation of 24, a hit American thriller TV series about a counter-terrorism agent. In a candid interview, Anil talks about his new project, marriage, and his strong bond with daughter Sonam.

Both Sonam and you're doing well in the same field. What if there's a father-daughter rivalry?
I can't talk about her, but I'll be the happiest person in the world to sacrifice for her. We both are very competitive, she a little more than me. We did an ad together and it was fun. I think I'll hang my boots if a situation like that arises.

Do you share a friendly relationship with Sonam?
Sonam is wonderful, innocent and very sensitive. I have to handle her with care. But she controls me a lot. In fact, I have to listen to a lot of diktats by both Sonam and Rhea. They have a lot of say in my professional life.

Does Hollywood interest Sonam?
She had quite a few Hollywood offers, but they were small cameos. There was a film produced by Ben Stiller. And another film with Julia Roberts, but Sonam felt her role was not good enough.

In Bollywood, where marriages are fragile, you've proved to be a solid family man.
The credit goes to my wife Sunita. When your family life is happy, the atmosphere at home is happy and everyone flourishes. But if you're stressed out, it shows on your face and your health. Sunita is a very caring and loving anchor. We've known each other for the last 40 years.

Being a star wife, she must have had her share of insecurities. How did you deal with it?
Every relationship has problems. But for us, it's always been very minor which has been sorted out within hours. We've made a pact that whatever the problem is, we have to sort it out before we go to sleep, even if it's 2 or 3 am in the morning.

Tell us something about 24.
Initially, I was hesitant to be on TV, but thankfully, I understood that if you do it right, nothing is bigger than TV. In the US, the budget for a show like this goes up to $10mn. So, convincing the channel for the budget for the Indian version of 24 was tough.