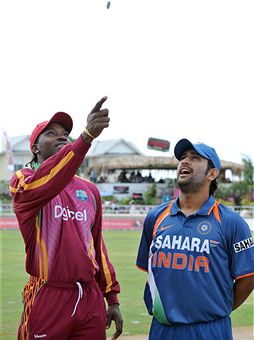 India's cricketers have been deafened by howls of derision after their latest defeat by England in a four match Test series. Sunil Gavaskar, a former Indian batsman, said his countrymen were playing like "schoolboys". Geoffrey Boycott, a former English cricketer, called their performance more befitting Bangladesh than a team currently ranked No 1 in the Test tables.

Before we feel too sorry for India's struggling cricket stars, we should remember that they are paid for success and vicissitude alike. Research by the Times of India, a daily newspaper, shows that some of India's top cricketers are paid as much as the world's most richly rewarded footballers while the annual, seven week Indian Premier League is in full flow. By the newspaper's calculations, during the IPL, Gautam Gambhir, an opening batsman who plays for the Kolkata Knight Riders earned more than Lionel Messi, the Argentinian striker who plays for Barcelona. Gambhir's earnings during the tournament put him in pro-rata touching distance of Cristiano Ronaldo, the Portuguese and Real Madrid player. Cricketers Yusuf Pathan and Robin Uthappa match the incomes of Fernando Torres and Yaya Toure. India's cricketers have been roundly criticised for prioritising the IPL over Test cricket, and losing Test match form by doing so.

Yet the financial incentive of high paying cricket is hard to resist. Their choice is to miss out on payday in front of adoring home crowds in preference for honour at Lords and Trent Bridge, famed cricket grounds in England. The dazzling money made in Indian cricket is attracting attention, both on and off the field.

The Indian parliament's Standing Committee on Finance has asked the Indian tax department and the Reserve Bank of India to investigate the finances of the Board for Cricket Control in India, the game's governing body, and the IPL. A report by the committee submitted to parliament this month complains that the game is "embroiled in transgressions off the field".

It warns that the tax department has been too lenient to the Board of Control for Cricket in India, which benefitted from tax exemptions in spite of the growing commercial success of the game. India's cricket establishment faces a tough contest in England this summer at the hands of a formidable bowling attack; when it returns home it may find as greater encounter with the tax man.