The music launch of Yamla Pagla Deewana 2 on Tuesday was a star-studded event with Bollywood celebrities like Shah Rukh Khan, Aamir Khan, Hrithik Roshan, Riteish Deshmukh, Genelia D'Souza, Rakesh Roshan, Kunal Kohli, and Juhi Chawla making the occasion extra special.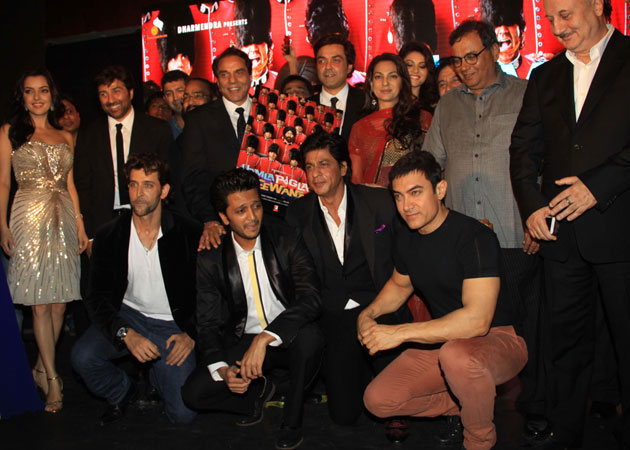 The glamour value of the event went to an entirely different level when celebrities including the star cast of the film -- Sunny Deol and Bobby Deol -- danced to the tunes of Main aida hi nachna song from the film along with veteran actor Dharmendra. In lighter vein, Dharmendra said: "I have always wanted to say this and today everyone is there including the media. I want to say that I am the No 1 dancer. My son Sunny has planned a special song for me, Main aida hi nachna."

Dharmendra, who is playing a big role in the film, thanked his colleagues from the film industry for always being there to support him. "I am so happy for the love and respect which they give me. They all meet me so nicely. "Today, whatever I am is because of their love. I wish them all the best and a long life. They should have good films and success should come to them," said the veteran actor. Directed by Sangeeth Sivan, Yamla Pagla Deewana 2 stars Dharmendra, Bobby Deol, Sunny Deol, Neha Sharma, Kristina Akheeva. The film is all set to release on June 7.