Actress Preity Zinta is making a comeback with her long delayed Ishkq in Paris after three years and she admits that making the film was a challenge as she had to don many hats. The film, directed by Prem Soni, was initially set to release last year but got postponed after the director was diagnosed with cancer. Preity's maiden production is now slated for release on May 24.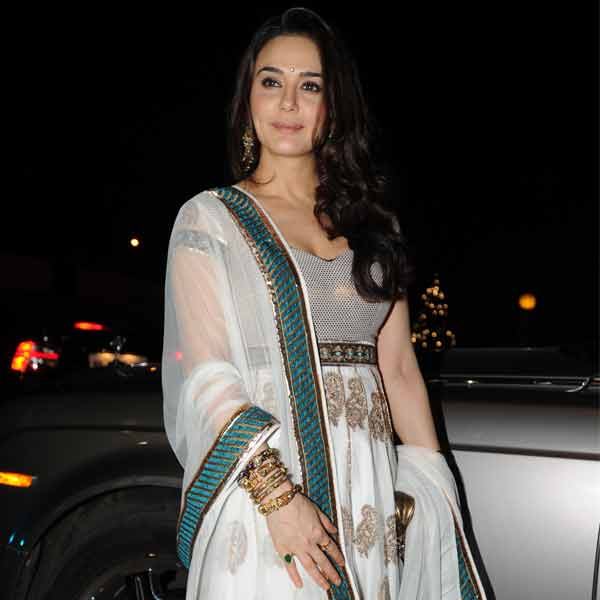 "Shooting this film was not easy... It was a risk. But it was an incredible experience because I was involved in it since the inception. In eight months, I and Prem (director) wrote an original script which is not based on any Hollywood film or an adaptation of a book. "There was so much work on the sets because I was producing it also. I had to take care of every aspect besides my job as a scriptwriter and lead actress," Preity told PTI in an interview.

The 38-year-old actress was last seen in a cameo in the Salman Khan starrer Main Aur Mrs Khanna in 2009. Preity says she took a break to concentrate on IPL team franchise Kings XI Punjab but decided to return to acting after a meeting with spiritual leader Dalai Lama. "I took some time off from cinema and was concentrating on cricket. I bought a cricket company and being the owner of it I had to look after everything. I was getting many film offers but I was rejecting them till I met Dalai Lama. He inspired me to go back to my craft where I was best at," she added.

In the film, Preity plays the titular character of Ishkq. The film also stars two newcomers - TV actor Rhehan Malliek and French actress Isabelle Adjani. "It's a realistic film and not an escapist. My character Ishkq is half French but she is Indian by nature. She is very today. It's not an out of college role like the new actresses of today do," she said. As the film is releasing soon, Preity said it was very difficult to manage time for promotions because she is also busy with the ongoing IPL matches.

"I am managing my time somehow for promotions. I waited for so long to release the film because my director was diagnosed with cancer and after that his father also expired. So, we are releasing the film now," she said. Starting her career with Mani Ratnam's Dil Se, Preity has had a wide array of films be it a progressive thinking girl of Kya Kehna, a street-walker in Chori Chori Chupke Chupke or a journalist in Lakshya and she is confident that her latest outing is another such role.

"I have always taken up challenging roles. I have not always played bubbly characters on-screen. I have played many serious roles also. I am fortunate enough to work with some amazing directors. I have done 36 films and have never followed any particular trend of roles," she added.