The mastermind behind the whole spot-fixing saga was reported to be a close aid of Dawood Ibrahim. His name was Sunil Ramchandani alias Sunil Dubai while the principal bookie referred to as 'Jupiter' in phone conversation is a person called Chandresh. A leading newspaper quoted an unnamed Delhi police officer as saying that the way the money was given to the players indicate a strong Dawood links in the whole case.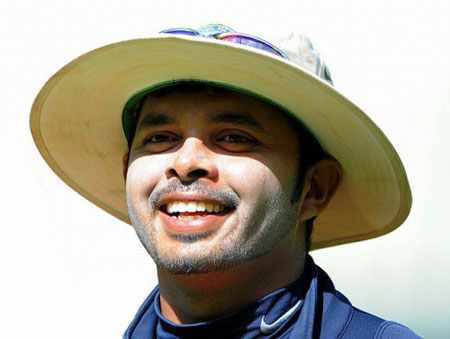 Paceman S Sreesanth and two other bowlers belonging to the Rajasthan Royals IPL team who were arrested on Thursday for spot-fixing, received up to Rs 60 lakh for one over for giving away runs as per arrangements with bookies with underworld connections abroad. The sensational arrests of the three players in the early hours of the morning in Mumbai by the Special Cell of Delhi Police has cast a shadow over the ongoing IPL tournament and the players have been suspended by the BCCI.

At a crowded press conference here, Delhi Police Commissioner Neeraj Kumar said that the Special Cell had hundreds of hours of recordings of phone conversations between the players and bookies, 14 of whom have also been arrested. More arrests are on the anvil but the role of no other player, Indian or foreign, has come to light.

The players and bookies, who have been brought to Delhi, have been charged under section 420 (cheating) and 120 (b) (criminal conspiracy) but they are also likely to be booked under the stringent MCOCA, Maharashtra Control of Organised Crime Act, which could land them in jail without bail and their confessions before a DCP level officer will be admissible in court.

Kumar gave a detailed account of the conversations that took place between bookies and the arrested Rajasthan Royals players -- Sreesanth and spinners Ankeet Chavan and Ajit Chandila. Kumar revealed explosive details of the modus operandi followed by bookies and the cricketers, giving audio-visual proof of three IPL matches which were manipulated. Kumar revealed how bookies gave the caught players specific approval codes which were used to signify a compromised over during the matches.

"In certain overs they (the players) were supposed to give away a certain amount of runs. The bookies gave players instructions that they have to indicate that they would give away these runs," Kumar said. "The instructions were `put the towel in your trousers or take time setting up the field or take out the shirt or the vests that you are wearing`," added Kumar, elaborating on the signals that the players used to convey their consent for the bookies` instructions.

The top cop listed three Rajasthan Royals` matches -- on May 5, 9 and 15 against Pune Warriors, Kings XI Punjab and Mumbai Indians respectively -- where spot-fixing took place. "The first instance that came to our notice was Rajasthan Royals vs Pune Warriors on May 5. In this match, as already agreed upon, Chandila gave 14 runs in the second over of his spell but he forgot to give the predetermined signal due to which the bookies could not bet in this match," Kumar said.

"This led to an argument and demands for return of money. Rs 20 lakh was advanced to him and another 20 was to be given later. He had to return the money," he added. DCP Sanjeev Yadav then gave an account of the conversation that took place between Chandila and a bookie named Amit Kumar before the match. Chandila was supposed to pull up his shirt to signify the start of the manipulated over. Even though he conceded the agreed 14 runs but having forgotten to give the signal, the bookies could not place any bets.

The next match the police talked of took place on May 9 in Mohali. "In this match, Sreesanth was to put a towel in his trousers before bowling the second over and give bookies enough time to indulge in heavy betting," said Kumar. The DCP then stated that in this particular match, Sreesanth`s close friend Jiju Janardhan was in touch with bookie Chandresh Patel. "As decided Sreesanth bowled the first over without a towel. But in the second over he put a towel in his trousers and to give bookies time, he did some warm-up and stretching exercises," he said.

"He gave 13 runs instead of the agreed 14 in his over," said Kumar, adding that minor aberrations were not of much consequence for the bookies. The police showed the clipping from the match in which Sreesanth bowled the compromised over with a towel. The next game police talked about took place only the previous night against the Mumbai Indians.

"Ajit Chandela was not playing but he was acting as a go-between among the bookies and Ankeet Chavan to take Rs 60 lakh and perform as per the bookies` instruction. He was supposed to give 13 or more runs," Kumar said. "He gave two runs in his first over and in the second over, in the first three balls itself he gave 14 runs after which he controlled his bowling and gave only one more run in the remaining three balls," he added.

"Chandila motivated Chavan, they had a chat with the bookies. Chavan said `I would move my wristband` to signal," added Yadav. Kumar said the police team was present in all these matches. "Our team was present in all these matches. One of the reasons was because those signals could have been given during commercial breaks also, so, to keep track our team was watching the matches at the stadium," he said.

"Sreesanth was arrested at Carter road in Mumbai, Chandila outside hotel Intercontinental where some of the bookies were staying and Ankeet Hotel Trident," said Kumar. Asked about how the investigation, Kumar said, "It was an information that we had that the Mumbai underworld is indulging in match-fixing or spot fixing and contacting a number of bookies and some players are mixed up," he said.

"We were keeping them under surveillance. The names of these three came to light and we waited for a situation when all three could be pinned down," he added. Asked whether Dawood Ibrahim or other underworld dons were involved, Kumar said, "it is difficult to name anybody unless we have a credible proof. There is no evidence on which basis I can name any member of the underworld...But it is sufficient to say that there is an overseas connection and we have definite proof."

"These three players knew each other and they knew that each of them was involved."Asked whether Australia`s Shaun Tait or any other player is involved, Kumar said "We have no such evidence. According to us, Shaun Tait is not involved."

Kumar laughed off the allegations by Sreesanth`s parents that India skipper Mahendra Singh Dhoni conspired to frame Sreesanth. "This is totally wrong. Dhoni did not put the towel in his trouser," he quipped. Kumar said the players and the bookies were being monitored since the beginning of IPL.

"We were tracking them since April. We allowed them to make mistakes...Mastermind is sitting abroad," he said. The Commissioner said the mastermind in this episode is "sitting abroad". Kumar said owners of IPL teams were not invovled besides ruling out the role of any batsman of any team in scam so far.

"This is not something which happens overnight. These people the bookies they spot talent, spot vulnerable people who can be compromised and they work over a period of time. "The investigation that we have done, it is sheer coincidence that three players of the same team have come under our radar. We cannot say that it is not happening in other teams or other matches, we cannot say with certainty.

"In this investigation, only these three players have come," he said adding that they have informed the IPL management about what has happened. Asked whether Sreesanth was the main man in bringing the two other players into bookies` fold as he was the senior among them, he said one cannot say. "He is not the central part," Kumar said.

Asked about Jiju, the "close friend" of Sreesanth who was arrested from Mumbai, he said, Jiju is a close friend of Sreesanth and he played with the cricketer in club level at their home district Ernakulam. "Jiju was the conduit between Sreeshant and the bookies. Sreeshant was given Rs 40 lakh," he said. He also said they may approach the Enforcement Directorate, DRI and Income Tax Department depending on the recovery of money.

Asked about the mysterious death of Special Cell Inspector Badrish Dutt, who was involved in these investigations, he said the developments in the spot-fixing case has nothing to do with Dutt. Dutt was considered a master in technical surveillance and it was he who led the team which recorded the conversations between players and bookies.