John Abraham admits when he was offered to play gangster Manya Surve in Sanjay Gupta's recent blockbuster Shootout At Wadala (SAW), he doubted his ability. He was strongly convinced that his macho image would come in the way of the dramatic role at hand.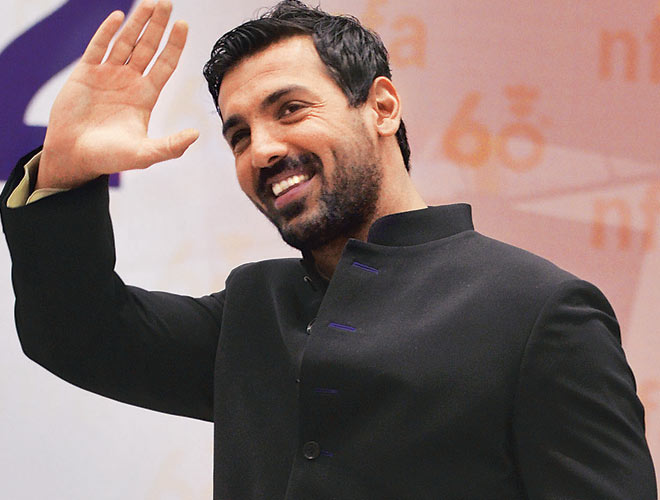 "I was worried, stressed and scared but I said this was a make-or-break situation for me in life. If I can play Manya Surve, I will change my image as an actor. I decided to take this up and I did it," says John celebrating the success of SAW, the gangster drama that has turned out to be one of the biggest hits of the year so far, generating `42.75 crore till date. There was very little documented information about Manya, who was killed in the first officially recorded encounter conducted by Mumbai Police. But John says he realised he could not carry forward without extensive homework.

He was told that the role of a young Hindu gangster set in the eighties was diametrically opposite to his suave image. "I drew a lot of inspiration from Manya. I collected information about him and managed to create an image of Manya in my mind. I lived his life, his character for at least one and half years to play the role," he says.

Action Abraham
Charming his way into showbiz initially as a model, the 40-year-old hunk has often faced criticism for being wooden and expressionless in his decade-long career, despite appearing in several hits. His portrayal of grey shades helped him build an action image in films such as Dhoom (2004), Karam (2005), Zinda (2006) and New York (2009).
The film that really started turning his fortune, though, was last year's Force. The heavy action flick confirmed his macho image. His well-toned beef underlined his presence as one of Bollywood's most saleable action stars. Filmmaker Sanjay Gadhvi, who helped John change his image from a pin-up boy to a suave hero in Dhoom, compares the actor to Hollywood star Vin Diesel and says John has been "consistent". "John is thoroughly professional and always gives his best shot. This has helped him progress as an action hero from Dhoom to Shootout At Wadala," say Gadhvi.

Beyond Poster Boy
Starting as a Gladrags Model, John was a rage on the ramp. His looks and chiseled body was just perfect for the wayward loverboy image in his debut film, Jism. "John has always known his limitation as an actor yet he has managed to create a niche personality in the industry. He is viable because he is choosy, so his fans eagerly wait for his films," says ad-filmmaker and image-maker Prahlad Kakkar, who has seen John's career blossom from a model to Bollywood star to, subsequently, a producer with Vicky Donor last year. To show his range as an actor, John has also tried comedy with films such as Garam Masala, Desi Boyz and Dostana.

Downey Jr. Syndrome
John's career graph bears a resemblance to Robert Downey Jr.'s, without the subtext of the Hollywood actor's numerous runins with the law. Like John, Robert Downey Jr. too meandered aimlessly for a while with his career.

Starting off as James Spader's sidekick in Tuff Turf in 1985, he had to struggle for years before Hollywood took him seriously. Today at the age of 48, after three Iron Man blockbusters and two Sherlock Holmes hits, Downey Jr. is all set to become Hollywood's highest-paid actor with a $100 million deal for the next two films in The Avengers trilogy. John may or may not become the highest-paid actor in Bollywood, of course. But then, he still has time. At 40, John is also eight years younger than Downey Jr.
Producer's Turn
He forayed into production by setting up John Abraham Entertainment with a clear intention of making content-based films. He took the risk and started off with a small budget comedy, Vicky Donor, about the offbeat subject of sperm donation. A fun film on sperm donation would not quite seem like Bollywood material but the uniqueness of the subject made everyone curious. Directed by Shoojit Sircar, Vicky Donor was a tonguein- cheek tale of a Delhi boy who takes to sperm donation to earn fast bucks. Made on a modest budget of Rs.5 crore, the film went on to earn Rs.76 crore.

Producer John recently collected the National Award for the Popular Film of the Year. "John made an intelligent move by starting off with a smallbudget film with strong content, which established his position as a producer. This has also elevated his overall brand image and market value," says Kakkar.

Continuing with his fetish for small-budget films high on script, John's next production is Hamara Bajaj with Vicky Donor star Ayushmann Khurrana in the lead. Next in line is the political thriller Madras Café, which stars John and Nargis Fakhri.
Looking Forward
Unconfirmed reports suggest that after the success of SAW, John has hiked his price to Rs.15 crore. He is being flooded with offers of different kinds. He is the most likely choice to star in Subhash Ghai's remake of his 1993 blockbuster, Khalnayak. John will also be seen in the sequel of Welcome, titled Welcome Back, though his hiked remuneration is being considered as a hurdle.

Looking at the success of SAW, director Gupta has announced he will take the franchise forward. He wishes to cast John with Abhishek
Bachchan in an epic revenge drama. John also has Dostana 2 coming up with Abhishek. Besides, he is keen to work in Anurag Kashyap's No Smoking 2. Although No Smoking tanked, John feels it has been his best film so far.