TV actor Gaurav Chanana became a household name as Dr Rahul Mehra in the popular soap 'Sanjivani'. He later disappeared from small screen and is now back, this time as Rhehan Malliek (name changed) as the lead actor opposite Preity Zinta in 'Ishqk In Paris'. Actor Rhehan Malliek joined IBNLive readers for an interaction on his movie 'Ishkq in Paris'.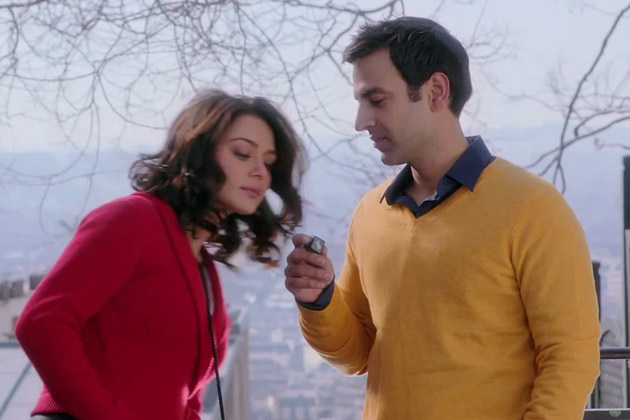 Q. Is this movie shot in Paris? Asked by: Ilena
A. Yes.
Q. Is 'Ishkq in Paris' a romantic movie or a comedy? Asked by: Gardish
A. Romantic comedy.
Q. How was Preity as a co-star to you? Asked by: Lallu
A. She was great, learnt a lot from her.
Q. How was your experience while working in 'Sanjivani'? Asked by: Mrianl Saurya
A. It was great, people really liked the show and me. It was fun experience.
Q. If given a chance will you work with Preity Zinta again? Asked by: Major
A. Off-course.
Q. Do you believe in award function.some 20 awards function are held every year? Asked by: Sangesh
A. Well I think its fun, but they are not as sacred as it used to be.
Q. Do you listen to the critics who give their star rating on Friday to every movie? Asked by: Suraj
A. Once in a while yes.
Q. This film was supposed to get release in 2012 only..why there was so much delay in releasing this movie? Asked by: Penty
A. Director was not well and his father also passed away. It was very traumatic.
Q. Is your name change because of superstition..you want to keep different name for film and different one for TV? Asked by: Wardhan
A. No, by choice. I'm still Hindu. My name was very common so changed for films.
Q. Your wishlist of directors with whom you want to work with? Asked by: Zeba
A. No favourite, there are many. One person I really wanted to work with is Mr Yash Chopra but he is no more.
Q. Has Preity Zinta bullied you while shooting and promoting he film? Asked by: laila khan
A. Haha...why do you say that?
Q. Any plans for directing movies in future? Asked by: Jagdish
A. No.
Q. Do you want to do only commercial films or given a chance will you work in a art movie? Asked by: KK sir
A. Well both actually, art or commercial doesn't matter. If I like the character I'll do the film.
Q. How much role does promotion of the movie had to do with success of the film these days? Asked by: Farhan
A. A lot, its as important as film making.
Q. Apart from acting..which aspect of film making interests you? Asked by: Diya
A. The process of filmmaking fascinates me. I don't know whether I can be part of any other aspect, would like to stick to acting.
Q. When in your life you decided that you want to be an actor..was it a childhood dream? Asked by: Gunjan
A. Not really, I think in class 11th when I did a play, which gave me immense joy. So in pursuit of happiness I started doing acting.
Q. Please tell me one reason as to why should I watch this movie? Asked by: Joyal
A. 3Ps-Prem, Preity and Paris.
Q. You being a TV star and Preity being a film star..was their any difference of opinion while shooting between both of you? Asked by: Eshu
A. No not really.
Q. What was your reason behind choosing this film. Asked by: Guru
A. Well it is big film, Preity is huge star, Prem as director is great, script is great, and my character as well. So all reasons were there to do the film.
Q. What you like most..films or TV? Asked by: Bodha
A. Films.
Q. Don't you think 'Ishkq in Paris' is too young a title for Preity Zinta now? Asked by: Rohit Chauhan
A. Not really, I don't think so.
Q. The release of the film got delayed..did it affect the chances of the film? Asked by: Dil
A. Its a matter of speculation.
Q. What is the BO report of 'Ishkq in Paris' is it doing well in the theaters? Asked by: Chintu
A. Its doing well, word of mouth is very positive.
Q. Your favourite actress of all time? Asked by: Yuvi
A. Madhuri Dixit.
Q. What is the difference between working in a film and working in TV? Asked by: Gagan
A. Films have a bigger platform, there is more time to shoot. So films are more creatively satisfying.
Q. Any plans for the sequel of this movie..'Ishkq in Paris-2'? Asked by: Hari
A. I think you should ask Preity.
Q. What are your upcoming projects? Asked by: Deepka
A. Can't announce as of now.
Q. Have you gone through any training in acting? Asked by: Gauher
A. Yes.
Q. What will be your advice to newcomers? Asked by: Ganga
A. Nobody to give advice to others, but I'll say give it your best shot.
Q. Will you return to small screen again? Asked by: Rakka
A. I rather do films but if something comes up ....lets see.
Q. Why you took long break from TV..was you looking for films? Asked by: Rohit
A. I wanted to do films. My father was also not well, so went back to Delhi.
Q. Your favourite movie off all time? Asked by: Jiva
A. 'Sholay', 'Andaz Apna Apna' and 'Satya'.
Q. How you bagged this role..you had to go through the auditions? Asked by: Versha
A. Yes, lot of auditions.