Bollywood superstar Shah Rukh Khan took a break from filming in Dubai last night to hail the emirate as a budding filmmaking hub. The actor, wearing traditional Emirati dress, spoke out alongside his co-stars in the upcoming movie Happy New Year. The film will be shot almost entirely in Dubai, largely at Atlantis, The Palm. "Its like when you're choosing a city for the Olympics. For us ... there's only one city that fits the bill and that's Dubai," Khan said. He said the emirate was chosen because it was the most cosmopolitan city in the world, with the most beautiful hotels, high-tech equipment and luxury cars, and because of its people. The movie is being directed by Farah Khan and also stars Deepika Padukone, Boman Irani, Abhishek Bachchan, Sonu Sood and Vivaan Shah.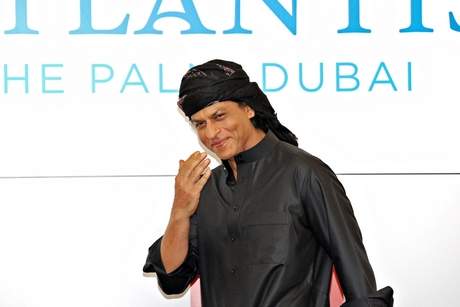 They also praised Dubai, its culture, venues, residents and authorities for accommodating and helping the production at Atlantis. Khan, one of Bollywood's biggest stars, described Dubai as his second home and said it was a dream to do some "concrete work" in the emirate. "I just love the way the city breathes and you have something for everyone here," he said. "But there was always a desire that I'd come here and do what I do best." He said the filming location was chosen for creative reasons, not marketing or business ones. "The reason to do the film here is because the film desires it to be so," Khan said. "We will make sure that we will make a film that will make you very, very proud." The director, Farah Khan, said Dubai was a character in the film, not just a location. "Dubai has got beautiful locations, it's got the infrastructure, it's glamorous and it's got a culture that's not there anywhere else in the world," he said. Irani gave an emotional recollection of his time in the city. "We've always heard of the red carpet being rolled out but I can tell you safely that it's the first time that I have seen a red carpet rolled out studded with diamonds in the shape of hearts," he said.Sood, who starred in the Emirati film City of Life, said Dubai had always been a very special city to him – and was the site of the three most important events of his life. "The first was City of Life, which made me a path ... second, when I broke my leg six months back, and the third is definitely Happy New Year," he said. Bachchan, an accomplished actor and the son of Bollywood legend Amitabh Bachchan, said Dubai bystanders had helped production, not just working as extras but as virtual crowd control.
He told how the city always feels like home to him and that some of his family have lived in Dubai for 35 years. "The warmth and respect they give me, and especially my family, has always been very touching," he said. Bachchan said this positive "attitude will encourage more Indian filmmakers to come and work when they see that the entire city, not just the authorities, but even the people, want to go out of their way to make it possible for us to come here and make movies". Jamal Al Sharif, chairman of the Dubai Film and TV Commission (DFTC), said the Indian film industry was one of the largest centres of film production in the world and offered exciting opportunities to work with Dubai. "Happy New Year embodies the unique partnership that we have with Bollywood and greater India as we work together to establish Dubai as a unique consolidated production hub," he said. Happy New Year is the latest of an increasing number of big-budget international films shot in Dubai since 2005, including Syriana, Switch, Main Aur Mrs Khanna and Mission: Impossible – Ghost Protocol. The DFTC, formed last year, is responsible for increasing media production in Dubai, promoting Dubai as a filmmaking hub, issuing shooting permits and supporting a range of productions, from advertisements to films.