A hauntingly intense photograph of actress
Madhubala
along with equally beautiful vintage portraits of Bollywood icons like
Dev
Anand
,
Nargis
,
Pran
and others are available at the United Art Fair (
UAF
) here. At the second edition of the Fair, which opened to a VIP preview here on September 14, there is a good dose of tinsel town magic with artists and photographers finding their muse in the country's film industry. Wearing a polka dot top and a half eaten apple in one hand, a photograph of actress
Nutan
staring at the camera with an open faced grin, has been priced at
Rs
1
lakh
, in the constellation of timeless photographs clicked by the late
Jethalal
H
Thakker
.
Thakker
, came from Karachi after Partition and set up the India Photo Studio in Mumbai, which soon became a
favourite
amongst movie stars for
Thakker's
"beautifully lit portraits which were intensely moody."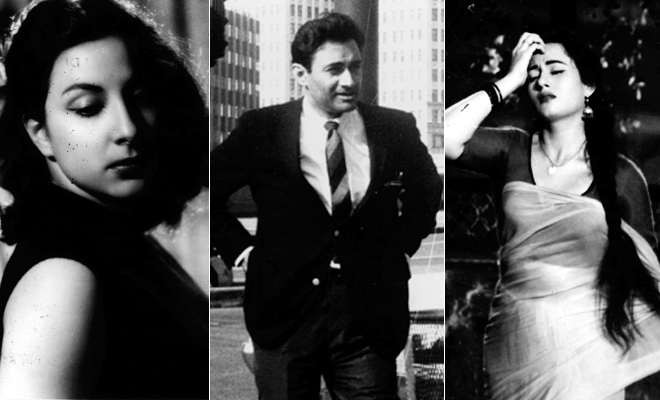 "The stars would come and hang out in the studio and try out costumes and props which were not related to any movie. These collaborations between the photographer and the stars resulted in stunning images of the Bombay screen legends, which are also a terrific body of work exemplifying the grand studio-portrait style of the time," says Ram
Rahman
, one of the five curators of the
UAF
. The limited edition archival
photoprints
in
chiaroscurist
lighting by
Thakker
are priced at
Rs
1,00,000 each.
In another section of the Fair, spread across four halls at the
Pragati
Maidan
venue, an entire wall is covered with still photographs of the "
travelling
truck cinemas" found mostly in the rural areas of the country. The photographs clicked by filmmaker
Dev
Benegal
, is part of research for his film "Road" that starred
Abhay
Deol
and premiered at the 2009 Toronto Film Festival. Modified trucks that house cinema projectors and serves as a projection room often set up make-shift
theatres
in villages. Bengal
travelled
for a year with a transient cinema troupe that showcased different films in rural
Rajasthan
villages.