Blockbusters have the look and feel of one. The audiences are more or less aware in their sub conscious which film will perform well and which won't, simply because they are aware of their tastes and preferences for films. Dry spells are natural in a booming industry like Bollywood but the strength of blockbusters are enough to cut through the aridity. October has evolved as quite a dull month, given that two of the year's biggest films which were expected to be box office winners have proved as massive flops – namely
Besharam
and Boss! And now the mantel of box office will soon be passed to
Krrish
3, but is yet to see whether the film can take Bollywood back to the super successful days of Chennai Express or even
ala
Yeh
Jawaani
Hai
Deewani
. The
IPL
fever was sky rocketing high which gave Bollywood a severe beating. With most films failing to succeed amply, it was
Ranbir
Kapoor
and
Deepika
Padukone
starrer
candyfloss
romance story
YJHD
that managed to cut through the box office dry spell. The film went on to collect 190.03
crores
at the domestic box office despite no added advantage to its credit.
But the real box office turnover was done by the
Baadshah
of Bollywood. Despite being a strictly average film, its was Shah
Rukh
Khan's star power that made the film a record smasher of sorts. Path breaking, the film went on to create box office history emerging as the highest opening day collections, fastest 100
crore
entrant, Highest week 1 collections and above all the highest lifetime collections ever recorded by a film which rested at a magnanimous domestic total of 226.70
crores
at the India Box Office! It is a challenge for any film to even consider matching the level that Chennai Express attained for itself. However, with films like
Krrish
3 and
Dhoom
3 gearing up for release, there is a strong chance that the film will mark its efforts to surpass the
moolah
raked up by Chennai Express. Once the blaze of Chennai Express wore itself out as the film wrapped up its lifetime income at the box office, none of the promising ventures managed to create any magic. There were a bunch of interesting films lined up, expected to have met with at least the distinguished 100
crore
mark but unfortunately none of those films managed to even make it to the coveted club.
To begin with it was Once Upon Ay Time In Mumbai
Dobaara
which one would assume flopped so miserably because of the excessive pressure of Chennai Express at the box office, but the film had such a disappointing premise that it failed to even tread near its predecessor Once Upon A Time In Mumbai, in terms of a grasping story. The film barely ran for two weeks properly, and most people who went in expecting the marvel of
OUATIM
had their hopes cast down. No wonder all the film made at the box office was a dismal 65
crores'
lifetime income. Madras Cafe despite being heavily praised by critics failed at gathering a more universal appeal to it. That could only qualify as the most sane reason why Madras Cafe did not perform well at the box office making only 50
crores'
total earn. Though a lot was expected of
multi-starrer
Amitabh
Bachchan
, Ajay
Devgn
and
Kareena
Kapoor
film
Satyagraha
, it wouldn't be faulty to say that
Prakash
Jha
lost his earnestness in this film which ranks as the most important reason as to why the film did not manage to soar. An average caper with a lifetime amount of 67.85
crores
, the film despite being on a extremely novel and relatable idea failed to strike the right chord with the audiences.
Another film expected to be a huge box office grosser was
Priyanka
Chopra and Ram
Charan
Teja's
Zanjeer
. An expensive film that was a remake of
Amitabh
Bachchan's
film of the same name was perhaps the year's biggest dismal box office failure which began September on a bad note for Bollywood. And though
Parineeti
Chopra and
Sushant
Sigh
starrer
Shuddh
Desi
Romance had good steam, it was more of a multiplex film catering only to the youth. Lacking the universal appeal again, even this film could on cross over into the hit zone resting it total income at 46. 80
crores
. Among the commendable releases in September, it was only Grand
Masti
which fared well in terms of box office numbers. Becoming the first film of its kind to enter the 100
crore
club, the sexual innuendos of this otherwise vulgar film went down well with the audiences. On the other hand,
Rajkumar
Santoshi's
Phata
Poster
Nikhla
Hero was a flop. Earning only a total income of 37.85
crores
, the film was disappointing in terms of box office numbers and mostly because it is upsetting top see a man of
Rajkumar
Santoshi's
caliber wasting himself over a film like this. Overall, after Chennai Express it was only Grand
Masti
that made it to the 100
crore
club. But it is the gusto of a blockbuster, star laden, audience crazy frenzy that has been missing from the box office.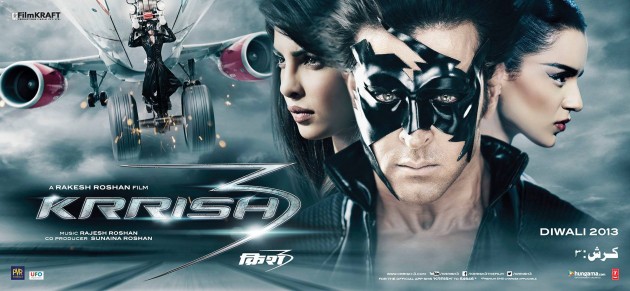 October could have witnessed a good spin for the industry. With the young superstar
Ranbir
Kapoor
trying his hand at a newer genre of
masala
flicks, along with
Abhinav
Kashyap
, the man who created the endearing character of
Salman
Khan's
Chulbul
Pandey
– the film was an utter misfit of sorts. Casting an actor who has greater caliber than playing a crotch fixing, women stalking buffoon, it is justified that the film did not do well at the box office. Emerging as perhaps the year's biggest dud, the film has so far collected in the range of 60
crores
and on the verge of wrapping up its lifetime collections. October still had hopes from
Akshay
Kumar
starrer
Boss. With smashing trailers and
Khiladi
Kumar returning back in his popular Rowdy avatar, it was almost a shock when the film expected to be a 100
crore
failed to reach even 50
crore
mark at the domestic box office by the conclusion of its extended first week.
So, basically October too has remained dry for Bollywood unfortunately. And technically speaking, the industry has been oblivious of a super success since Chennai Express. Barring Grand
Masti
which was the only film that has shown remote promise of even performing exquisitely at the box office, the audiences are still waiting for a glittering blockbuster film
ala
Chennai Express. With
Krrish
3 releasing next week, audiences are waiting with bated breath expecting this film to match up to the blaze of
SRK's
Chennai Express. High on
VFX
and India's most ambitious screen outing so far, it is yet to see whether the film resolves the dry spell issue that Bollywood has been bearing since the release of the
Rohit
Shetty
directorial. It is yet to see, if
Krrish
3 that has a
humungous
appeal among children will join the ranks of blockbuster like Chennai Express giving Bollywood a fertile November and the parched box office something to be gleeful about this
Diwali
.