Just when the battle between 'hell' and 'heaven' was brought to an end in '
Bigg
Boss 7', another division cropped up in the house - it's Bollywood versus TV stars. Going by the turn of events, it seems quite evident that the house is split into two groups. In one group where all the TV celebrities have joined hands and in the other where
Armaan
and
Tanisha
isolated themselves. The host
Salman
Khan has also been dragged into this so-called
groupism
. Fans have vocally expressed that
Salman
has been
favouring
the contestants with Bollywood background. Last weekend,
Salman
faced criticism for lashing out at
Kushal
Tandon
(now evicted) for misbehaving with
Tanisha
Mukherjee
during a task. According to
Salman
,
Tanisha's
act of attacking
Kushal
physically was justified because
Kushal
provoked her.
Kushal's
argument that it was part of the task was swept under the carpet. However, in a recent task of 'ignoring the obvious', we witnessed repetition of the situation.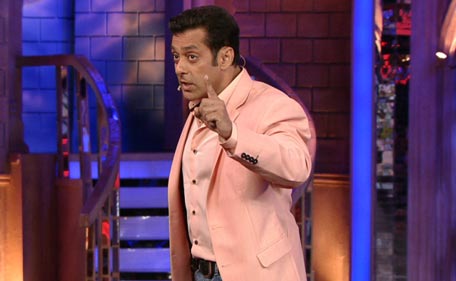 During the task housemates were asked to ignore Andy's presence, while he had to grab their attention. Andy adopted all sorts of method to distract the contestants. He played with
Gauhar's
lingerie and made comments about the girls on national TV. After the task
Gauhar
gave an earful to Andy.
Kushal
got involve in the fight and charged towards Andy to beat him. Soon,
Bigg
Boss made an announcement that
Kushal
will have to leave the house for attacking Andy. Eyebrows were raised on this decision by
Bigg
Boss. Fans questioned the difference of judgment during
Tanisha
and
Kushal's
aggression. On social media viewers asked why
Tanisha
was not thrown out for attacking
Kushal
.
Salman
Khan had justified
Tanisha's
act as reaction to provocation.
Similarly
Kushal
was provoked when Andy was taking out his grudge against
Gauhar
and
Pratyusha
. Fans reacted saying if
Tanisha's
act was justified then why not
Kushal's
for standing up for
Gauhar's
honour
? They were baffled with the different punishments for contestants in the same house? Even
Pratyusha
was not speared by
Salman
for calling
Tanishaa
a cheap girl and a "club dancer". On the other hand even
Armaan
Kohli
and
Tanishaa
have often called the other contestants "low class and cheap". But during the weekend episode
Salman
ignored their comments.
Armaan
even mocked
Kamya
for being a divorcee and later apologized for what he said. Should such comments be ignored only because he apologized? After the chain of events that had occurred in the house, the loyal audiences of
Bigg
Boss feel let down.