Apparently
Tanishaa
might be evicted from the
Bigg
Boss 7 house very soon. As you know
Tanishaa
Mukherji's
mother
Tanuja
and elder sis
Kajol
were not happy with the idea of
Tanishaa
participating in
Bigg
Boss 7.
Tanishaa
, however still went ahead with her decision. What came as a surprise was, in spite of their disapproval,
Tanuja
and
Kajol
chose to be part of the audiovisual shown on the grand opening of
Bigg
Boss 7. The show began and everything was fine in the initial two weeks and
Tanishaa
was considered as the most balanced contestant in the house. Problem began from the third week when
Tanishaa
started getting close to fellow contestant
Armaan
Kohli
.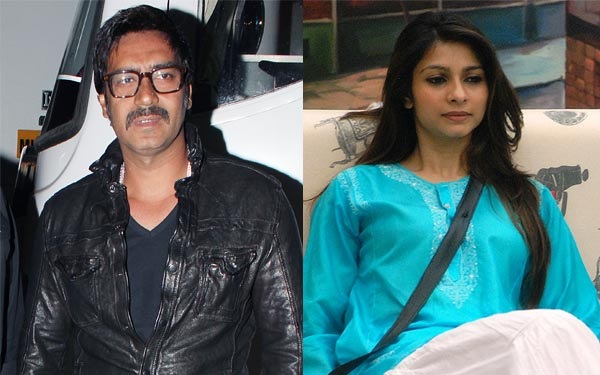 Since then with every passing day,
Tanishaa
and
Armaan
are getting closer in the glass walled house. And this closeness is making
Tanishaa's
mother
Tanuja
and elder sis
Kajol
more and more furious. There have been reports that
Tanishaa's
brother-in-law – Ajay
Devgn
has called his good friend
Salman
Khan and producers and asked to get
Tanishaa
out of the house, but all in vain. Recently during the
Kabhi
haan
,
kabhi
naa
task,
Armaan
got pissed at
Tanishaa
and he hastily and heartlessly pulled off the stool on which
Tanishaa
was seated, leaving her off balance. However like always,
Tanishaa
went back to
Armaan
and
apologised
to him. She then put her hands on his neck and thighs. In yesterday's episode as well,
TanMan
(that's what their fans call them) shared a long…very long hug with each other as the two were sad because their families didn't enter the house as a part of the remote control task.
The two are behaving like a couple and this has irked the heck out of
Tanishaa's
family. Now we have heard that
Devgn
has sternly told the makers to evict
Tanishaa
at any cost. That's not all. Ajay has also told them that if Viacom 18 is looking for any kind of association with the
Devgns
in near future, they will have to make sure that Colors, their network channel, evicts
Tanishaa
from
Bigg
Boss 7. Reportedly Ajay is very serious this time, and if his request is not met up, he may just not work with
Viacom18
anymore. A little birdie has chirped to us that a high level meeting is underway at Viacom
18′s
office where the concerned people are discussing on how to handle this situation. Since there is no elimination happening this week, the makers are confused on
Tanishaa's
eviction. One of the many suggestions that came up during this discussion was that
Bigg
Boss himself can evict one contestant, as per a valid reason. The makers have not reached to any conclusion yet and anything may happen. So will
Tanishaa
be finally evicted very soon from the
Bigg
Boss 7 house? Well, all we can do is just wait and let the drama unfold!