The
Dhoom
series has had inspector Jai
Dixit
as one of the constants and
Jr
Bachchan
believes he is the hero of the film which could not have been made without him and co-star
Uday
Chopra.
Aamir
Khan and Katrina
Kaif
may be the latest starry additions to
Dhoom
:3, however
Abhishek
Bachchan
and
Uday
Chopra are reprising their roles of Jai
Dixit
and Ali Akbar yet again. And
Abhishek
truly believes that
Dhoom
is his film. In a recent interview for his film
Abhishek
said,
"Dhoom
is my film and I am the hero. Nobody can take that away from me. You can be the biggest or the smallest star but
'Dhoom'
is about Jai and Ali. It is as simple as that. If the characters of Jai and Ali are not there in
'Dhoom'
, the film won't be there."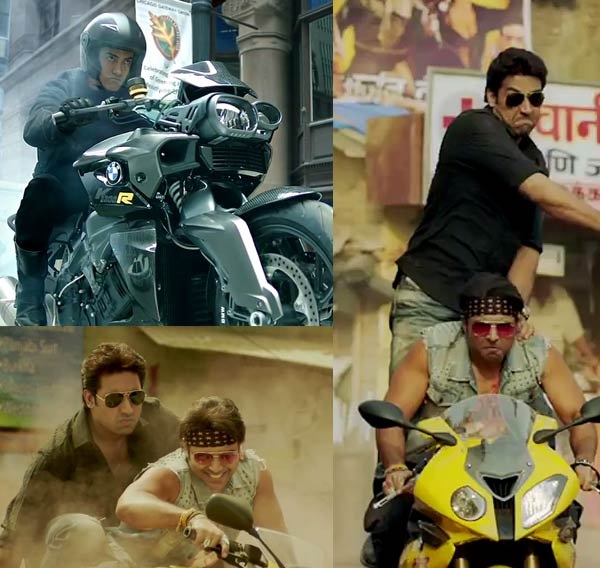 There were reports that
Abhishek
was unhappy with the way the film was being promoted. The actor minced no words to express his displeasure, "You should ask the people who decide the marketing strategy which evidently isn't me. It is my film and wherever they ask me to come I will. Obviously, I want to stand by it. If they feel there are certain events where they don't want me to be around, what can I do about that. Do I feel bad for it?..No, I don't give attention to these things." The actor also added, "I think it matters from case to case. In a film like
'Dhoom'
, I think it doesn't need any stars.
It doesn't need
Aamir
, me and
Uday
.
'Dhoom'
has become a franchise in itself, you can have newcomers and it will do great." There was buzz about
Jr
Bachchan
being upset after he was sidelined during the film's promotions. There was also buzz about how
Yash
Raj banner had apologized to
Abhishek
for the same. We are glad that
Abhishek
is finally discussing his pet and successful project finally and we like his candid conversation. We hope that with
Dhoom
:3's success may be the team can celebrate their film's success 'together'.