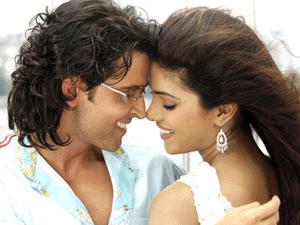 Priyanka Chopra and Hrithik Roshan act together in 'Agneepath': We have seen Bollywood belle, Priyanka Chopra, play all kinds of roles in her previous projects. From a glamour girl in "Fashion," to a traditional Marathi woman in Kamine, Priyanka has transformed into all sorts of characters. It looks like she will do so again for her next flick, Agneepath. The buzz is that Priyanka will have a whole new look in the film.

PC is not the only one who will have to change for her character in the film, actor Hrithik Roshan who is starring in the film will have to do the same.While Priyanka has not revealed what her look for the film will be, Hrithik says he has to gain 30 pounds for the project! He's gotta bulk up like Aamir Khan did in Ghajani. Hrithik is even working with celebrity trainer, Satya, to gain muscle. Satya also helped Aamir, bulk up for his role in Ghajani.

There is a lot a buzz about how different the actors will look in this film. While Hrithik has shared some information about his new look Priyanka has not given out any information. She told press, "I am shooting for Agneepath but cannot put up the pics as we have different looks and cannot reveal it as yet." Agneepath is set to release this December. The movie is a remake of the 1990 Bollywood film that starred Bollywood icon, Amitabh Bachchan. The story revolves around a young boy who has to protect his mother and sister after his father is brutally lynched for a crime he did not commit. High expectations are set on this film as it is being compared to the original. Hopefully this remake of the film will meet all expectations.