While
Kapil
Sharma is still debating his Bollywood debut, buzz is that his former colleague Sunil Grover has given the nod to the
Akshay
Kumar
starrer
'
Gabbar
'. But raise the question and the comedian turns reticent, "I can't talk about it, it's too soon." However, Sunil does admit that he will be seen in a Hindi movie soon and yes,
Akshay
is part of the cast. So will we see reflections of his most famous onscreen alter-ego
Guthi
in the film role? "No, it'll be completely different from anything I've ever done. I'll be an actor playing a character without any womanly traits. I'll use the men's washroom and all the timbre in my voice," he answers. Sunil is also in the midst of switching channels. After entertaining couch potatoes on ' Comedy Nights with
Kapil
', he's now moving to Star Plus with his own show which is as yet untitled.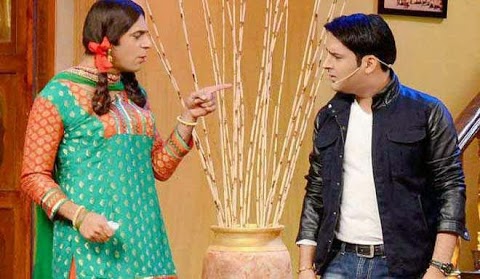 But will
Guthi
, Sunil in drag as a straight-talking, pigtailed girl, move with him to the rival channel? "No, you will not see
Guthi
, you will see Sunil Grover," he retorts. But the look from the new show seems familiar. Won't he get into trouble with Colors which has issued a public notice stating that
Guthi
is their property and no one can lay claim to it? "I don't think it'll come to that. I've taken all care not to rub anyone the wrong way. But if it happens I have my answer ready," he says. So how different will this new character,
Chutki
, be from
Guthi
? "There will many differences. Plus, the timing is new. But the intention is the same, to make people laugh," he says.
There will be other actors with him on the show and he insists that if any of them were to get popular he will not feel threatened. "It's not a one-man show, it's a team effort, I believe in democracy. I have excellent performers and if they are liked, it's fine because it can only be good for the show," Sunil reasons, pointing out that his flight is readying for take off and he has to switch
offf
his cell phone. One last question: Will he go back to 'Comedy Nights with
Kapil
' ever? "Ever is a long time. Let's say I don't see the chance of that happening in the near future." So we will see them share a stage at events and award functions? "I'm okay, but ask
Kapil
too," he quips.