Pakistani actress
Veena
Malik
has announced her retirement from the commercial film industry but said she would continue to act in movies with religious and social messages.
Veena
Malik
made the announcement from
Makkah
after performing
Umrah
that she would no longer act in films either in Pakistan or in India.
Malik
said she would continue to engage in projects which aim for welfare or social development. As far as the entertainment industry is concerned, she will refrain from being part of any new films from here on. She might have to turn down producers in India with whom she had agreed to work. However, news from Pakistan hint that
Malik
has plans to host a morning show with her husband on a Pakistani news channel.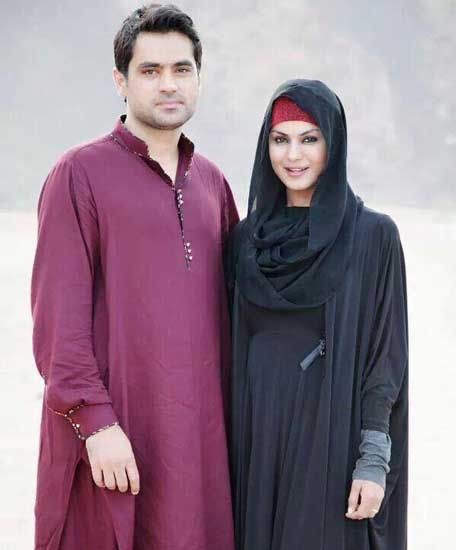 Veena
Malik
, who married Dubai-based Pakistani businessman
Asad
Bashir
Khan
Khattak
last year, was embroiled in fresh controversy and some serious allegations were made against her.
Malik's
former Indian manager and alleged lover,
Prashant
Pratap
Singh, has claimed betrayal and fraud by the actress after hearing news of her marriage.
Veena
retorted calling him an "ex-employee" who is maligning her reputation and also raised doubts about his sexual orientation.
Prashant
Singh countered these claims by posting intimate photographs of the two on a social networking site. He filed a police complaint against
Veena
for fraud and threat calls to his mother. After posting images and talking about their live-in relationship details, the jilted lover wrote on Twitter, "If
Veena
Malik
doesn't apologize I will release more proof and trust me I have loads!"
Prashant
also revealed that
Veena
was carrying his child in 2012. They discovered about the pregnancy on May 10 and later on decided to terminate the pregnancy.
Veena
dismissed all such allegations. The actress hurriedly got married to compatriot singer/model and businessman
Assad
Bashir
Khattak
in Dubai. Due to her mother's poor health,
Veena's
nikkah
was rushed and soon after the newlyweds threw a 'private' reception.
Malik
recently appeared on a television show in which she announced that she had changed her lifestyle after coming into contact with
Maulana
Tariq
Jameel
. Some sources say that she would be heading US after performing the
Umrah
.