Debutant
actor
Shashank
Arora
considers himself blessed for having bagged the starring role in
"Titli
," which will see its world premiere at the ongoing Cannes Film Festival.
Helmed
by
debutant
director
Kanu
Behl
and produced by
Dibakar
Banerjee
and
Yash
Raj Films, the family drama is slated to premiere in the Un Certain Regard category at Cannes. The movie also stars
Ranvir
Shorey
,
Amit
Sial
and
Lalit
Behl
. "I feel blessed as I had never imagined that my debut film would premiere in Cannes. Five years ago, I was doing auditions and now am I am heading to Cannes. I am happy that I got to do what I love to do and with someone who is a great director and who really spoon-fed me when I needed,"
Arora
said before leaving for the French city.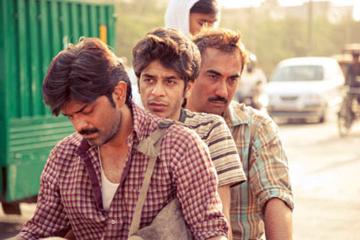 "I will tag along with the director and will watch great cinema. I can learn some things and watch wonderful cinema as well," he added. The actor landed in Mumbai as a teenager in hopes of pursuing his dreams after graduating from Montreal. "When I was about 15, I was editing and putting music to videos on my computer. When I was 17, I left for Montreal, Canada and did a Fine Arts Bachelor in music and cinema. "After two years, I came to Mumbai when I was 19 and studied acting for two years. I was cast in two or three productions before meeting
Kanu
for
'Titli
,'" he said.
Arora
does not identify with the role he plays in
"Titli"
and attended workshops to prepare for the character.
"I attended a few workshops which were needed to create a few things the character was going through as I am not really like him. I also went to
Meerut
to prepare," he said. He may be acting in movies now, but
Arora
is intrigued by filmmaking and has a dream to turn director. "I just love making cinema. I have dreams of making films and being part of them. I hope people like my film. (Post
'Titli'
) I intend to keep my head grounded and keep working," he said. World cinema and Bollywood films hold special value in the actor's life. "I love good stories. Some of the Bollywood movies are really passionate and entertaining. There is world cinema and Iranian films which are fresh and have wonderful stories. I like watching new and fresh movies," he said.