Bang Bang in a line is
Krrish
sans the mask.
Hrithik
Roshan
plays
Rajveer
, a trigger-happy thief who is on the run with the most precious diamond;
Kohinoor
. Unlike
Krrish
he doesn't boast of a mask and a robe made of those black garbage bags but does all that a
superdah
is supposed to do - dodge bullets, defy gravity and mouth holier-than-thou
dialogues
like, 'mere
karan
kisi
begunah
ki
maut
nahi
hoti'
. And this is when he has caused a dozen office going cars meet with fatal accidents as he dodges the police on the busy roads of
Shimla
. Mind you, they were not innocent people. Their biggest crime was that they came in
Rajveer's
way. After all
"Rajveer
ke
karan
kisi
begunah
ki
maut
nahi
hoti." BOOM. And then he meets a bank receptionist,
Harleen
(Katrina
Kaif
) who is more irritating than all the contestants of all the seasons of
Bigg
Boss put together. She has no more gumption than a grasshopper and nervously lands herself on a dating website. She meets
Rajveer
on a blind date to eventually get a Carpe Diem lecture from him- "seize the moment, live the day…blah blah blah blah…"
Arey
but that's the same lecture she gave him in
Zindagi
Na
Milegi
Dobara
. Copy with subtlety and different actors,
baba
. So together they go to foreign countries minus passports or visas. Because in Hindi films we don't need documents to travel. We just need dresses. That magically appear from nowhere. There are no suitcases but with invisible
Manish
Malhotras
(
Anaita
Shroff
Adajania
in this case.)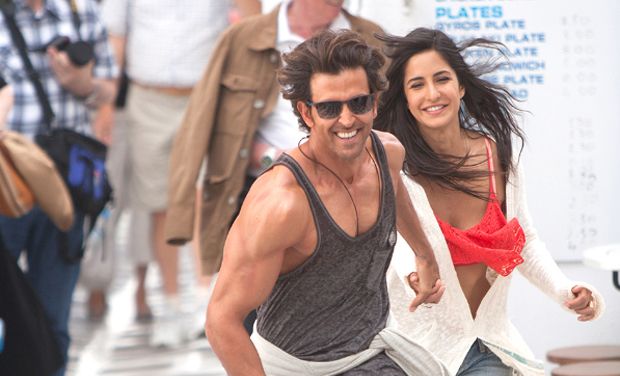 So
Rajveer
and
Harleen
elude the police and land on an island. Why? Because
Hrithik-Katrina
have the hottest bodies in business and it's a crime to hide them under unnecessary layers of Trench coats in
Shimla
. But before you can drool over their bare bodies, the location shifts to Prague. Oh ho, why Prague now? Because
Imtiaz
Ali had some unused footage from
Rockstar
that he had pitched to
Sidharth
Anand
at a very cheap price. Expectedly the thief and the bank receptionist turn into Vogue models. They walk the cobbled streets, wear
colourful
clothes and pose prettily against a romantic number before they finally reach the climax. Undoubtedly, the high-octane stunt scenes are par excellence but they are as pointless as
Rajveer's
very badly photo-shopped family picture or the shameless Mountain Dew product placement. Equally inane are
Rajveer's
kissing and self-confidence tutorials to
Harleen
that are given either when the foreign police lurk around or on a high speeding bike! And if that wasn't enough there is a
daadi
(shamelessly borrowed from Vicky Donor) who continues her broad-minded act.
Her idea of being modern is to barge into the bathroom and watch her 20-something naked granddaughter take a shower. Err the last I checked it wasn't called modern, it was spelled as – c-r-e-e-p-y!
Hrithik
Roshan
as Abbas
Tyrewala
(the
dialogue
writer of the film described in his Facebook post) can really seize a frame by the collar and quietly say, "I'm a God. Watch me, mortal." True THAT, every word! Katrina
Kaif
is either taking a shower or being drugged in the film. In between she is still speaking Hindi like it wasn't a language but some sounds. But what can poor
Harleen
do? She was born in Canada you see. Again? Yes YET AGAIN! The question here is not when Katrina
Kaif
will ever learn Hindi. The question is who between Sonia Gandhi and Katrina
Kaif
, will nail the language first? But it's ok. The locations are exotic, the action is impeccable, the music is foot-tapping. And then there is a shirtless hero and a heroine in
hotpants
as bonus. Though it hurts to see such a colossal waste of both talent and money. It's appalling to see how names like
Abbas-jaadu-ki-jhappi-Tyrewala
(
dialogues
),
Sujoy-Kahaani-Ghosh
(screenplay) and
Sidharth-Hum-Tum-Anand
(director) can go so wrong. Wish they had used more logic than bullets to create the real 'bang bang'.