In conversation with
Akshay
Kumar about his disciplined life, crazy fan experiences and his motivation to work harder.
Akshay
Kumar's peers Shah
Rukh
,
Salman
and
Aamir
Khan make a film a year, while he works around-the-clock taking on as many projects as he possibly can. Here are excerpts of our chat with him where he talks about playing an alcoholic in The
Shaukeens
, his son
Aarav
being his biggest critic and why he wants martial arts to become a compulsory subject in schools.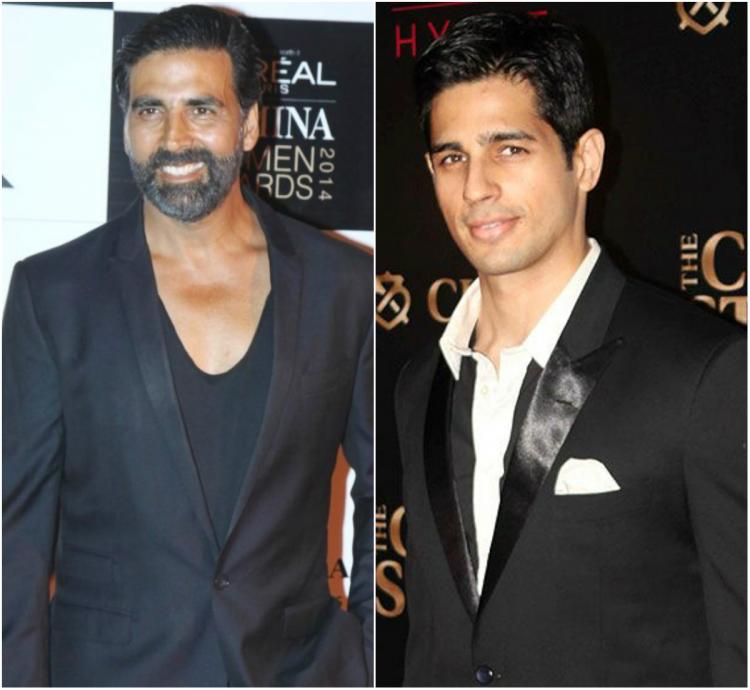 You're known to be disciplined actor and have a good-boy image. How difficult was it playing an alcoholic?
I play myself —
Akshay
Kumar — in the movie. And my life is quite boring. I have no addictions whatsoever; I don't drink tea or coffee, I don't consume alcohol, I don't do drugs. Now in a film, every character has to be a little
colourful
, otherwise it looks very plain and dull. That's why the writer,
Tigmanshu
Dhulia
, and my director
Abhishek
Sharma decided to make this character the opposite of what I am in real life. They decided to make him an aggressive alcoholic. There are alcoholic examples in the industry. I won't take any names, but I know of people who put vodka in coconut water or orange juice. People think, 'Oh, it's so healthy', but they don't know what's really happening and the person is slipping off his chair slowly during the shoot. I just find it very funny and decided to do that.
What are you a

shaukeen

of in real life?
I'll have to say food. I love eating, particularly sweets.
Were you worried the Censor Board would give the film an 'A' rating?
The original movie was an A-rated movie and I was worried because I was very sure it doesn't deserve an 'A'. But to my surprise, even the Censor Board was very liberal. They found the three old men not lecherous, but cute. They just want to see the girl (Lisa) in a bikini. The girl doesn't even realize the men are having such thoughts about her. So. I found this whole idea very different. Also if in 1982, when the original movie released, the audience was all ready to watch it, I'm sure now they are completely prepared to watch it.
Any crazy fans in real life (like Lisa is in The

Shaukeens

)?
There was this one girl a long time ago who was not allowed to enter the studio I was shooting in. So she happened to slit her wrist. We rushed her to the hospital and later on found that she had run away from home in
Lucknow
. She came from a very nice family and her parents didn't even know she was in Mumbai. So we convinced her to go back and assured her she could meet me once a year. We gave her my secretary's number for the same.
Ever been a fan of someone's like that?
No, I don't think that has ever happened.
Star power seems to be more important than the story these days, as do promotions and so everybody is trying to interact with the audience every now and then. Your thoughts.
I don't care about star power. It doesn't make any sense. I want to do good films, new roles. I don't care if the film is made with a grand budget or not. I just see if the character is worth doing, if I enjoyed doing it or not, what does my son think of my film. And he's honest about his opinion, if he doesn't like a film he'd say it to my face, 'What is this you've done, dad? It's so bad!'
Salman

has

Eid

, Shah

Rukh

has

Diwali

and

Aamir

has Christmas. Does it bother you that you have no festivals to cash in on?
No, it doesn't. I make a good amount of big-budget films and they do well for me. I produce films and I don't take money from my own company. So my fee is zero. I make the films in say about
Rs
20-30
crores
and sell it to satellite or distributor. That pretty much covers the making charge. Whatever the film makes thereafter, is my profit. Sometimes, the profit is more and sometimes it's less but there's never a loss.
But hasn't the cost of production increased for films in general?
See, cost of production only goes high when you don't know your scripts and you take 280-300 days to complete a movie. And it is surprising that people usually think of such directors as great. For Mission Impossible, Tom Cruise had shot for just 47 days because the script was flawless and everyone knew what was to be done. Is there any Bollywood film that is larger than MI? Then why are we taking 280 days to complete one? If your actor comes in at 7 am in the morning, works for 10-12 hours, then your film will get done much sooner and you can even give your unit a leave every Sunday. I just completed
Neeraj
Pandey's
Baby and I shot for 32 days. The overall film was made in about 50 or so days. That's because he had his script in place.
You do more films than any other Bollywood actor. How do you manage?
I know I'm doing four films a year while others are doing one per year, sometimes one in two years. But I do these films very easily with a lot of free time in hand. In fact, I'm the only actor who takes so many holidays. I take at least eight days off every three months and a long month-and-a-half's vacation every year. So if I have time, what else do I do?
What is it that keeps you motivated?
To be honest, I'm still greedy. I'm always waiting for something new to start. Like my next, Brothers, I'm going to start shooting soon but I just can't wait to be there. I've lost like 10
kgs
since my role demanded a leaner, athletic body. Also I'm supposed to look weaker than my younger brother, played by
Sidharth
Malhotra
, who has put on 10
kgs
for the same reason. And of course the bulked up look really suits him a lot. So in the film, I'm weaker than
Sidharth
.
You support a martial arts competition every year and you wanted

self-defence

to become part of the education curriculum…
I've been supporting the competition for the past six years. As for including it in the curriculum, I have already sent an appeal to the government. Recently, I was in Singapore. While talking to a friend there, I asked him what the crime rate was there and he said it was 0.03 per cent. Supposedly, every man in Singapore has to go through three-year military training and sign a contract declaring their support to the army if required. They even undergo a revision program of seven days every two years. Now that every family has a soldier, a protector, the crime rate automatically goes down.