Bollywood is never out of the news. No matter how much we Mumbaiites see it facilely, as just another industry, it must be acknowledged that the rest of India sees it differently. This allows several people to spin a yarn, so to speak, using films and stars as they want. Sport of course — and cricket especially — is Mumbai's other claim to fame and this time, they both seem muddled up. So there is all kind of outrage about actor Salman Khan being appointed India's goodwill ambassador for the Rio Olympics by the Indian Olympic Association. Some agitated sportspersons like Yogeshwar Dutt, Ashok Kumar and Milkha Singh see no good in the will of the Indian Olympic Association in taking this step. How does Salman qualify to represent sports they have asked? This earned instant rebuff from patriarch Salim Khan whose family is known to be sports crazy. But in a pointed reference to Milkha Singh, Salim Khan tweeted that the legendary runner would have been forgotten if it wasn't for Bollywood. Ring one up for a below the belt punch under the Marquess of Queensbury Rules I say! However even sportspersons like MC Mary Kom and Saina Nehwal have welcomed Salman's appointment without compunction. This shows the sports fraternity too — like films, business, politics, media etc — is a house divided when it comes to key issues.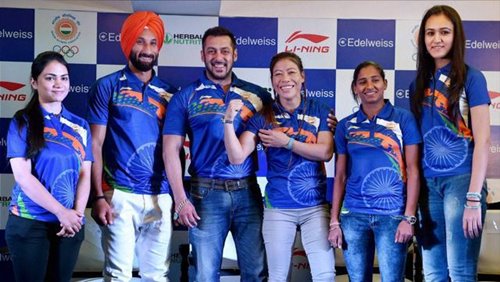 Whether this divided opinion is by generation, gender or simply the opportunity for being in the public gaze is difficult to say. All said and done, the current controversy would make for a splendid movie script methinks: with Salman playing Salman to show that Salman's choice was well founded. Howzat! However, going by the events of the past week — and despite the humungous fan following at his command — Salman is not the only person from the film industry whose sporting prowess, so to speak, came to the fore. Take veteran film-maker Shyam Benegal, who lists among his many successes the wonderful cricket series Sunil Gavaskar Presents in the 1980s. Shyam is a sports aficionado. He is known to play with a straight bat, but can improvise with dexterity and nimbleness if the need arises. This did happen recently when he was heading the committee to reform film censorship. Shyam accomplished a daunting task with the aplomb of a maestro. His argument that the CBFC was a certification, not a censoring body seems like a fell blow to the nutty theories that were being bandied around.
No cuts are necessary, says the committee Shyam heads. Instead, increase the categories of certification. It's a stellar recommendation. Finding a way through the labyrinth of bureaucracy in the I&B ministry and dismantling the legacy of Pahlaj Nihalani, who appeared to have strayed into cuckooland, is befitting a champion Olympic steeplechaser, no less. Meanwhile, breaking out of Bollywood to international stardom in a sprint is Priyanka Chopra, who has made it to the cover of Time Magazine as among the world's 100 most powerful people. This has come in such quick time that it has left everybody else in her fraternity breathless. The doors of Bollywood sadly close early and easily on female actors. While this trend is changing gradually, Priyanka clearly believes she has no time to dilly or dally. She has worked her way adroitly into fame, glory and hopefully longevity in Hollywood. More pertinently, she seems to have found a voice beyond film scripts and PR niceties. When asked about Republican presidential candidate Donald Trump, she didn't chomp on words and decried attempts at creating paranoia through identity politics. Looks like after getting into the skin of Mary Kom in the movie, Priyanka is not pulling her punches. Finally, of course, there's Hrithik Rishan and Kangana Ranaut and their prolonged conflict being played out in the public domain. This is a tussle that no one understands and cares about even less. Both have shown the strong virtues of Olympian marathoners – sadly only to reach heights of idiocy.