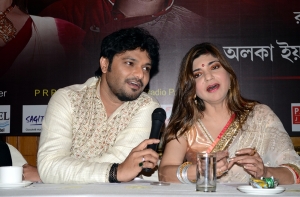 Bollywood singers Alka Yagnik and Babul Supriyo launched their first duet music album on Rabindra Sangeet (songs of Rabindranath Tagore) titled 'Mone Robe' at a city hotel on Thursday. The album, which has 10 songs, is the third Rabindra Sangeet offering of Asha Audio with Babul Supriyo and the first with Alka Yagnik.

Yagnik said that it was Babul Supriyo who took the initiative to bring out the album. "It was a long cherished dream to bring out an album on Rabindra sangeet though I have sung Rabindra sangeet at school and college," said Yagnik.

Babul Supriyo said that the first person who came into his mind to pair up for the album was Yagnik. He also compared her to a nightingale. "I spoke to Alkaji first and then spoke to Asha Audio about our pairing," he said. He also mentioned that the name of the album was cut short from the first line of the song 'Mone robe kina robe tomake…'.

"One cannot do much experiment with Rabindra Sangeet but we have done a bit of experiment with the song 'Noi Noi madhur khela….' and I hope that audience will like it," Babul Supriyo said. He remembered early days of his struggle and said he once asked for an autograph from Yagnik. They sang the song 'Sohena jatona….' from the album on request of hostess RJ Shree.

IBNS caught up with Babul Supriyo's daughter Sharmilie and asked her if she would like to take up acting as her career. The smart and bubbly kid of 7th standard replied, "My first preference is singing and always would be and perhaps I may think about taking up acting later in my career."

On asking if language was a problem for Yagnik during recording, Divyendu Lahiri, husband of Asha Audio's proprietor Mahua Lahiri, said, "There was absolutely no problem during recording as being a very good artist she picked up the songs very quickly." Lahiri told IBNS that they are going to release more albums with Shreya Ghosal, Raghav and Monomoy soon. Meanwhile, at the event event, Asha Audio announced the release of 'Rangmilantis', their first venture in films.