Actor-producer Akshay Kumar took time off from the shooting of `Joker` to promote his first Indo-Canadian venture `Speedy Singh`. Vinay Virmani, who is debuting with the movie, says he is lucky to have the Bollywood star`s support. Akshy visited Golden Temple in Amritsar and joined Vinay`s parents and sister and co-star Camilla to pray for the film`s success.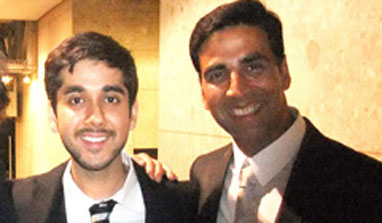 "I`m very lucky to have Akshay uncle`s support. He`s a role model. But more than that he is someone who understands Hindi commercial cinema. That`s where I want to be," said Vinay, who is Toronto-based businessman Ajay Virmani`s son. "Speedy Singh", which was earlier titled "Breakaway", is Akshay`s first Indo-Canadian film. His production company Hari Om Entertainment and First Take Entertainment have co-produced the film which also stars Russell Peters, Camilla Belle and Anupam Kher.

Directed by Robert Lieberman, the film is about ice hockey and Akshay makes a special appearance in it. "I`m completely bowled over by how welcome I`ve been made to feel in Bollywood and India. Whether it`s Akshay Uncle, who`s family, or Harbhajan Singh, they`ve been very supportive and have gone out of their way to support me," said Vinay.

The newcomer says he grew up in a miniature Bollywood. "In Toronto, we always had guests from Bollywood. And I grew up surrounded by stars. I speak fluent Punjabi and Hindi. And yes, I am hoping for a career in Hindi cinema.

"Bollywood was always on my mind from the time I was a child. Then I sat down to write the story of what eventually became `Speedy Singh`. A lot of what you see of the young Punjabi guy`s struggle to make a place for himself in the film is taken from my own life," said Vinay.