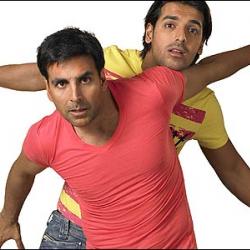 Barely a few days after the Bombay High Court prima facie found an alleged copyright violation by Shahrukh Khan's multi-crore production Ra.One, Akshay Kumar and John Abraham starrer Desi Boyz has been taken to court over a title dispute. A petition has been filed against Rohit Dhawan's (David Dhawan's son) directorial debut Desi Boyz by a Latur-based script writer and director alleging that he had registered the film titled Desi Boys with the Film Writers' Association (FWA) in September 2009.

Dhawan's Desi Boyz, starring Akshay Kumar, John Abraham and Deepika Padukone is slated for release on November 25.
Alleging copyright violation, Shyam Devkatte has sought criminal action under the Copyright Act and the Indian Penal Code against Dhawan and two producers of the movie.

Nandkumar Sawant, Devkatte's advocate argued that after registering the movie with FWA, he (Devkatte) had also e-mailed the script of his Desi Boys to Dhawan's two assistants. However, he had not received any further communication from them. Recently, when Devkatte saw the promos of Dhawan's film with the same title, he (Devkatte) tried to contact Dhawan. "But he was abused on the phone and threatened by some persons," alleged Sawant.

Devkatte lodged a complaint at the Amboli police station on October 14. On the same day, Devkatte also filed a private complaint before a metropolitan magistrate's court at Andheri under the Copyright Act. Stating that no action has been taken either on his complaint by the police or the magistrate, Devkatte filed a petition in the high court. He has sought criminal action against the producers for cheating, fraud and criminal intimidation. Besides a stay on the release of the movie, Devkatte has sought appropriate compensation and damages. Vacation judge, Justice AM Thipsay has kept the petition for hearing on October 28.