Mum-to-be, actress Aishwraya Rai-Bachchan's turning a year older today and is glowing with happiness with all the pampering she's been treated to in the past few months. Also, with the due date of the actor (said to be sometime in the second week of November) drawing close, apparently, hubby actor Abhishek Bachchan's already worked out his shoot schedules to ensure that there are no outdoor shoots happening at least for a month now.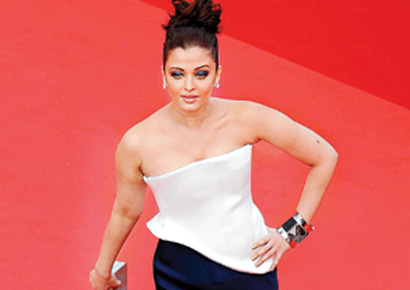 He will be a busy guy today, as sources reveal that apparently there's a birthday bash being planned for wifey dear later in the evening. Interestingly, there was much buzz about the baby expected to be a 1/11/11 baby and share the mum's birthdate. But now insiders suggest that the baby is most likely to arrive sometime in mid-November.

About the party being planned to celebrate the day, sources say that it is expected to be a grand affair. "The Bachchans are apparently planning to host a get-together in Jalsa today in the evening. Besides close family members, several people from the industry are expected to be present as well," says a source. According to another insider, Ash was keen to start her day by visiting a temple as she does every year, but this time she will probably have to make do with a puja at home. "However, the Bachchans are quite a regular in these matters, so one never knows," the insider adds.

A source, who's been in touch with Aishwarya, says that the actor is not anxious with her due date nearing, but quite calm and extremely happy. "She is making the most of this break and enjoying being pampered by her family. In fact, all the while that Abhishek was away, he would call up every hour to check in on her, just so she not miss him being by her side," the source revealed.

According to the source, parents-in-law Amitabh and Jaya Bachchan are apparently planning to gift their bahu expensive jewllery, while hubby Abhishek's planning on gifting a car. Buzz is also rife that she might even be gifted a new house, though there has been no confirmation yet.