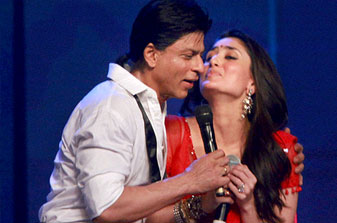 Chennai Express has sent Bollywood into a speculative tizzy. A collaboration between Shah Rukh Khan and Golmaal director Rohit Shetty, the movie hit headlines when it was suggested that Katrina Kaif had been signed on as the heroine, making it her fourth film in succession opposite a Khan.

But SRK's RA.One co-star Kareena Kapoor confirms that she will be the leading lady in the action-comedy. "Rohit and I are finalising the script and other details. Once it's locked, we can take matters forward," confirms Kareena, adding they had already spoken about the film at length. She admits, "Rohit is like family, and I am seriously looking forward to working with him again."

Earlier, reports had claimed that after working with Shah Rukh in Yash Chopra's upcoming directorial return, Katrina had grown close to her leading man, who in turn, recommended her to Rohit. But industry sources suggest that since Rohit shares a good equation with Kareena after they worked together in the 2010 hit, Golmaal 3, he felt she would be a better fit for the firebrand role opposite SRK in Chennai Express.

"Kareena and Shah Rukh have worked together in Asoka (2001) and RA.One among others. She has always openly declared her fondness for him," says the insider. Interestingly, at a RA.One promotional event, SRK had quipped that he is all for working repeatedly with Kareena, but she's the one who is busy working with the other Khans. Ask Kareena whether she's keen to reappear alongside her RA.One co-star, and she says, "Of course, I would love to work with Shah Rukh again. Who wouldn't?"

At the moment, the Kapoor girl is awaiting the release of boyfriend Saif Ali Khan's Agent Vinod, followed by Karan Johar's Imran Khan-starrer Ek Main Aur Ekk Tu. She is also shooting for Madhur Bhandarkar's Heroine.