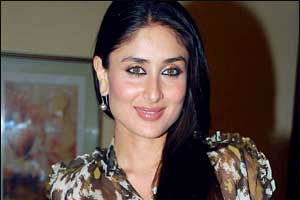 Bollywood actress Kareena Kapoor has so far kept herself away from social networking sites like Twitter and Facebook, but she is making an exception for Madhur Bhandarkar's movie 'Heroine'.

The 31-year-old actress has joined Twitter via producer UTV Motion Pictures' account, just for this movie. She will share moments from the shooting of the movie and be up, close and personal with her fans about her character and working experience on the sets of 'Heroine'.

"I will be on Twitter for the first time as heroine, my character in UTV Motion Pictures and Madhur Bhandarkar's film. It will be a new experience for me and I'm really looking forward for it. I think I will thoroughly enjoy it. I will be doing so from UTV's Twitter handle utvmp," said Kareena.

Initially Kareena had turned down the film and Aishwarya Rai Bachchan had taken up the project. But she backed out after announcing the news of her pregnancy and Bhandarkar turned to Kareena again. The film also stars Arjun Rampal, Randeep Hooda and Shahana Goswami. The music has been composed by duo Salim-Sulaiman. The film will hit theatres in July next year.