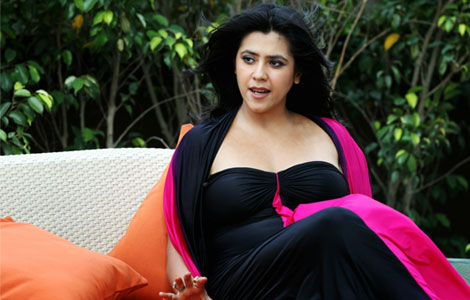 It's no longer a secret that Ekta Kapoor is being chased by three high-profile brands to be their ambassador. And although she is still pondering over the offers, she plans to go the charitable way, if she signs any of them.

"My parents have given me a lot of freedom to make my own decisions. When I informed them that one of the offers is coming with a lot of money, and I would buy my mother a big expensive watch or something with it, she started laughing and told me, 'don't do such a thing. If you do it, then give the money for charity.' So that's what I plan to do, if I do an ad," says Ekta.

For the uninitiated, Ekta has received offers from a mobile phone firm, a battery brand and a youth channel. However, The Dirty Picture producer is in two minds. Ask her if she keeps her parents in the loop for everything and she replies: "No. In fact, my mother has always told me, 'don't do anything for money. Do it only if you want to.' For me, money is the last criterion to do anything in life," says Ekta, who has apparently lost nine kilos recently for her new look.

On the film front, Ekta will soon start work on the sequel of Once Upon A Time In Mumbaai (2010). Of late, though, names like Shahid Kapoor and Kareena Kapoor have been doing the rounds in connection with the film.

"Milan (director, Luthria) was down with typhoid on the first day of the release of The Dirty Picture. A few days ago, I met him for the first time after the release. And he has lost 10 kgs due to ill health, so I can't discuss a film with him when he is struggling on that front. So, I am waiting for him to recover completely. Any conversation about OUATIM 2, as a team, will be taken forward only in January. After that, we will approach the actors," she says.