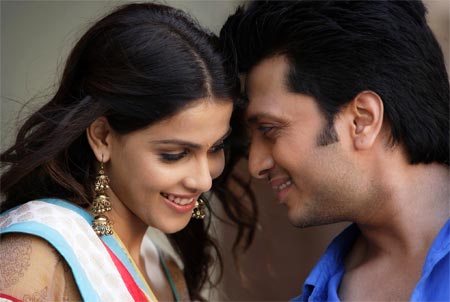 He is an actor with superb comic timing and she is an actress who has done films in five different languages. After hiding their relationship for years, Riteish Deshmukh and Genelia D'Souza are all excited about tying the knot on February 3.

The couple, who will be seen together in a film called Tere Naal Love Ho Gaya, opened up to Sonil Dedhia about their love and relationship. You'll started your careers at the same time with Tujhe Meri Kasam in 2003.

Riteish: It is like a full circle after eight years. The wonderful part is that you know a person from your first film. Today, Genelia is a competent actor. She's a different person and I think that's the wonderful part.

Knowing someone inside out doesn't mean I know everything. Like, I know how she will react to a certain thing, but she will do something totally different. She always keeps me on my toes. She kicks my ass!

Genelia: It feels good that we started our careers together. My single status also ended with him (Laughs). I knew Riteish as a friend and when we started our careers we were looking out for an opportunity. When we did our first film Tujhe Meri Kasam, we knew nothing about acting and today we have grown so much and have become responsible actors.