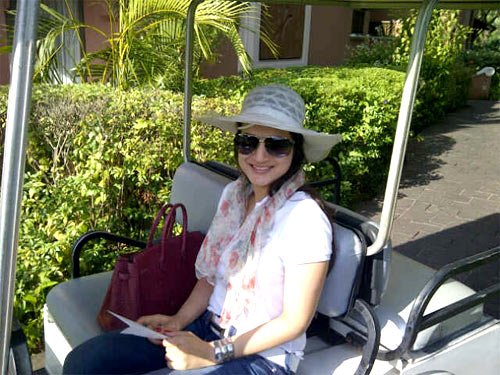 Here's what your favourtie Bollywood celebrities are tweeting. After Riteish Deshmukh and Genelia D'Souza tied the knot last week, it's now director David Dhawan's son Rohit's turn. Rohit, who recently directed his first film Desi Boyz, is getting married to his long-time girlfriend Jaanvi Desai.

Sonam Kapoor, who is in Goa with sister Rhea for the wedding, tweeted: 'In goa! For my chaddi buddy rohits wedding! Love being with friends and family.'

Ameesha Patel, who landed in Goa, tweeted with a picture (left). 'Just arrived in goa at the wedding venue. Park hyatt hotel..luvli welcome w hats n scarves.' Among the other guests, director Kunal Kohli and Sanjay Dutt, wife Manyaata and their twins have already arrived.