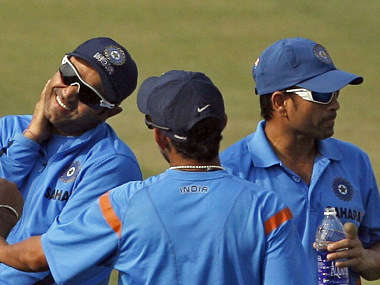 Some wisdom, some foolishness a rotation policy is often described in those terms. The reason being there is often a very thin line between pushing the limits and breaking them altogether. Do you push an in-form player out of the team and risk him coming back cold? Do you risk upsetting the balance of the team because no matter what you say, no two players are the same? Do you, most importantly, risk losing the match?

These are just a few of the reasons because of which it's so difficult to pull off a rotational policy that works the other being having a bench strength that's good enough to keep the winning streak going. A rotational policy should never be at the cost of the team's performance.

So as the news trickled in this morning, that Sachin Tendulkar is set to be rested from India's next ODI tri-series match against Australia in Adelaide on Sunday – it just made one wonder: Why now? Why now of all times? And why does that policy seem to involve just Gautam Gambhir, Virender Sehwag and Tendulkar? A file picture of Sehwag, Gambhir and Sachin. Reuters

A file picture of Sehwag, Gambhir and Sachin. Reuters "We are giving breaks to top three batsmen," Sehwag said ahead of the Perth ODI. "Maybe tomorrow is somebody else's turn. Either Gautam or Tendulkar will take a break, and maybe I can play." The answer to rotation question is a bit crude but true. The Board of Control for Cricket in India gets a rotation policy when it suits them. At other times, like many other things in the BCCI, it is conveniently let go.

In the lead-up to the World Cup, the selectors had a so called rotational policy in place. They were partly forced into it because of injuries and partly because they wanted to ensure that the stars were fit to play the World Cup. Thereafter the policy has been conveniently junked. Remember Rahul Dravid being surprised to be back in the ODI side during the England tour or the fact that none of these experiments were carried out in India during the Test series against West Indies or the ODI series against England.

What India has in place right now isn't a rotation policy – rather it's just ad hoc decision-making that prides itself on being reactionary. But what India really needs at this point is to win matches and get some confidence back. To rotate just three senior players is going to serve no purpose.

In fact, more than anything else, it makes one wonder why the batsmen need to be 'rested' now? Are they saving up their best for the IPL? Do they want to be fit for the 'big' event? What other reason could this selection committee and the team management have of suddenly lapsing into a rotation policy in the middle of a tough tour of Australia?

The BCCI's rotation policy is designed to keep people happy. No, we are not talking about the media here. We are not even talking about the people of India. The only people the Board is interested in keeping happy are its own Board members. That's what comes across when they allocate Test matches to venues that just don't bring in the crowds even while they gave Eden Gardens the cold shoulder all along. At the same time, matches were being played in empty stadiums in Nagpur and Ahmedabad.

They also have a rotational policy is place for manager's position for every tour. So if this time, it's Shivlal Yadav, then it will be Anirudh Chaudhary for another tour or Ranjib Biswal to name but a few. It's a flawed strategy but it's all aimed at keeping associations happy and securing the votes. Sadly, it works.

Rotation, in BCCI parlance, is a tool; a tool to curry favour. But why are the selectors and the team management resorting to it now? They didn't think it was a good idea to give Rohit Sharma or Ajinkya Rahane, who is back in India without playing a game in Australia, a go in the last Test… so why now?

Against teams like Australia and Sri Lanka, you want your best team to play; you want to win. Despite that if you still want to persist with a rotation policy, let it not be a half-baked one; let it not be one riddled with holes; let it not be rotation just for the sake of rotation.