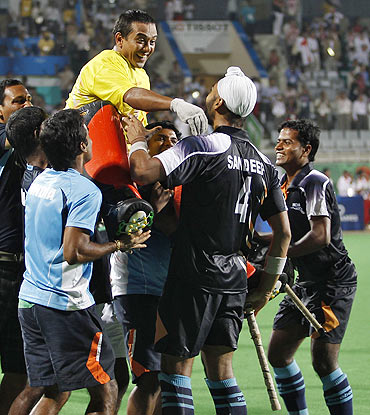 Indian hockey has fallen on hard times but captain Bharat Chetri believes it is his destiny to lead the team to the London Olympics and snatch a new generation of players away from cricket's grasp. India are the most successful hockey nation in Olympic history but collected the last of their eight gold medals in 1980. The game has been in steady decline in recent years and hit a nadir when India failed to qualify for the Beijing Games. Chetri said that for India's national sport to begin creeping out from cricket's massive shadow they had to grab their place in London with a strong showing at the Olympic qualifier beginning in Delhi on Saturday.

"We have not left anything to chance," Chetri said in an interview. "We worked hard, addressed every issue and are on the right track." India will be up against France, Canada, Italy, Poland and Singapore in the February 18-26 qualifier, which will be played at a stadium named after hockey wizard Dhyan Chand.

Chetri was reluctant to ponder the reason behind India's spectacular decline in hockey but said qualifying for London could be the first step towards winning back some of the youngsters heading for the nearest cricket academy. "There are a number of reasons (for the decline) but if the Indian team keeps doing well, parents too will encourage kids to play hockey. After all, it's our national game," Chetri added.

The 30-year-old goalkeeper from the state of West Bengal considers himself an 'accidental' hockey player and believes destiny dragged him kicking and screaming into the game. Mad about soccer from a young age, often at the expense of his studies, Chetri still remembers the day his parents dragged him onto a train and sent him to stay with his relatives in the neighbouring state of Bihar.