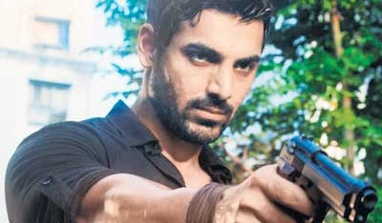 After the success of 'Agneepath' and Kancha Cheena, actor John Abraham is all set to walk along the lines of Sanjay Dutt. Following the immense acclaim that Sanjay's portrayal of Kancha Cheena received, John now wants to immortalize his Manya Surve in the upcoming offering from him, 'Shootout at Wadala'.

The movie, currently under production, is being directed by Sanjay Gupta and John's role in the film is that of Manohar Arjun Surve, aka Manya Surve. Manya Surve was a dreaded member of the Mumbai underworld who succumbed to an encounter with the police in 1982. And now, about three decades down the line, actor John Abhraham is striving to resurrect the gangster and immortalize him in 'Shootout at Wadala'.

Abraham has apparently left no stone unturned in gathering information regarding the gangster whose role he performs in the movie, and has rigorously been perfecting himself for the same. The fact that Manya Surve was a Marathi, too, has been keeping John busy. John has been receiving lessons to chisel his Marathi to colloquial perfection, and we sincerely hope that he manages to flatten his fans! Kancha Cheena now has a successor. What remains to be seen, is whether or not the character Manya Surve is writ in gold in the history of Hindi films!