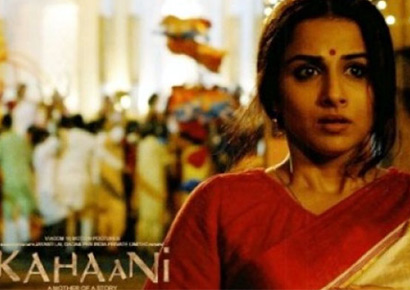 These are good times. Last week, Tigmanshu Dhulia's Paan Singh Tomar gave us a taste of a rare, well-made Bollywood biopic. This week, director Sujoy Ghosh serves up another rare treat a racy, edge-of-the-seat thriller. When was the last time you saw a Hindi film that had you gripping the popcorn tub tighter than usual, hair standing on end, and mind blown in the end?

Kahaani, about a pregnant woman's search for her husband in an unknown city, is bloody engaging. It will have your balls in your mouth as you watch it unfold, your heart racing at several points, your mind trying to put together all the pieces of the jigsaw strewn across the film. Unexpected humour comes as a pleasant surprise every now and then; a reprieve from the tension that is palpable. Before you are back to holding on to the edge of your seat, wondering what the next scene will have in store.

All of it builds up to an explosive finale, which will leave you stunned. And then, the pieces will start falling in to place. Much after you watch Kahaani, the film will continue to occupy your mind, as you marvel over how efficiently the story panned out — the kind of film that is enjoyable to re-watch even after you know how it ends.

It's no mean task, penning a script that holds your attention even as its intention is to throw you off mark every now and then. You try to stay a step ahead, and yet the story outwits you time and again. To the credit of the writers Ghosh, Advaita Kala, Suresh Nair and Ritesh Shah -- no strand remains unexplained.

There's nothing excessive in Kahaani; everything is just right the pace, the length, the drama. It's the work of a group of well-intentioned and able technicians who work together in harmony to carve out an unblemished piece of cinema. Namrata Rao's editing is watertight, while Setu's cinematography captures Kolkata's sights and sounds brilliantly. The film unfolds during the nine-day Durga Puja festival in the city, which lends Kahaani a distinct appeal.

And then there's the casting. Ghosh casts unfamiliar faces, which works well for the story. Each actor, except Vidya Balan, comes without a preconceived image, so you don't know what to expect. Parambrata Chattopadhyay endears himself as Rana, who helps Vidya with her search in a new city. Nawazuddin, as an Intelligence Bureau officer, is an actor you have watched doing good work before (he was top-notch in Firaaq), and he hits all the right notes with his performance in Kahaani. The creepy hitman, the senior cop at Kalighat police station, the two kids Vidya strikes a friendship with, even the man at the reception of the hotel where Vidya lives every actor is well-cast.

And then there is Vidya Balan herself. The actress has assumed a larger-than-life persona among audiences after her exploits over the past few years; incidentally or otherwise, it works beautifully for the film. Every time you think Vidya can't do better with a film, she ups the ante. The actor brings her all to Kahaani, making the role sparkle like only she can.

Unlike Irrfan in Paan Singh Tomar, though, Balan never overpowers the film, credit for which goes to Ghosh. It's hard to believe that a filmmaker who made such drivel as Aladin can bounce back with a gem like Kahaani. It shows that when everything falls in place for a film story, writing, acting, editing, cinematography, etc things can't go wrong. Kahaani is one such film; everything's right about it. But it still needs a director in this case, Ghosh to make sure every last building block falls in place. And he makes sure it does.