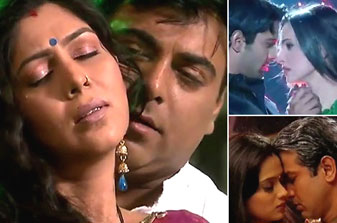 Viewers of popular television soap Bade Acche Lagte Hain were in for a big surprise as the lead actors Ram Kapoor and Sakshi Tanvar indulged in a liplock which was part of good 17 minutes long love-making scene. The episode aired last night at 10.30 pm on Sony.

The channel was promoting the steamy episode for a while but an actual lip to lip wasn't really expected. People watching the episode with families were a bit scandalised. Sakshi did a decent job but it was Ram who took the cake. His expressions of hesitation, desire and love came out quite naturally.

Bade Acche Lagte Hain, with television rating of 3.25% (as reported by Screen), is a story of two strangers from different backgrounds getting married and eventually falling in love. Kapoor plays business honcho Ram in his 40s while Tanwar portrays Priya, a teacher in her 30s. In the last episode, Ram confesses his love to Priya and consummates his marriage. And how!

The bedroom scene was enacted with, In Lamhon Ke Daaman Mein from Jodhaa Akbar playing in the backdrop. In the film too, Hrithik Roshan and Aishwarya Rai Bachchan consummated their marriage in this song sequence. It's so obviously contrived. However, the promo scene, which had Bahon Ke Darmiyan as the background score, wasn't aired. May be there's still more to come. So next time, be a little wary if your kids or parents are by your side when you are glued to another episode of BALH.

Love making scene from Bade Acche Lagte Hai. While producer Ekta Kapoor says Ram makes 40 and fat look sexy, people on Twitter are making fun of his weight. Rahul Nanda (@rahulnanda86): "Ram Kapoor is trending. What did he eat now!! Last heard he thought the taj mahal was milky bar"

Manudev Jain (@z_jain): "Move Aside ! Move Aside ! Ram Kapoor needs 6 of 10 trending spots to trend completely." We_Wake (@TheMantallBwoy): "That awkward moment when #BALH production people call a crane to separate Ram Kapoor from Sakshi Tanwar after that love making scene." Tulika (@TulikaP): "Size zero to size thousand! :-P RT "@Trendulkar: Q: What is the opposite of Ram kapoor? A: Kareena kapoor. #size0"
Rofl Indian (@Roflindian): "Ram Kapoor is a rare case of completely assimilated twins that grow up as a single entity." KaamwaaliBai (@KaamwaaliBai): "Ram Kapoor had Adnan Sami for breakfast last year." Abhishek Nanda (@abi_shake): "@wannabesanyasin: I think Ram Kapoor got laid. There is a God."hahaha...may god also bless d girl who had d courage to bed him"

Keyurious (@keyurbarad): "RT @thetanmay: You think Sakshi Tanwar woke up today next to Ram Kapoor and thought to herself.. "I'm never drinking again..." Dakshin (@upsidedakshin): "Poonam Pandey recordered an all time low views on her videos yesterday thanks to Ram Kapoor and his 46-54-46 :P"