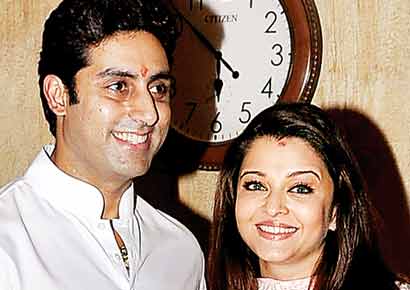 The entire nation is abuzz with news that superstar Amitabh Bachchan's grand daughter has finally been named Aaradhya Bachchan. Close to four months after the baby's birth, on 16 November 2011, it was referred to that 'Beti B' as she was named by the industry at large, was finally named Aaradyha.
However, up till the time of going to press, this news was not confirmed by either the Bachchans or their representatives. While it was suggested that the name was registered a few days ago, there has been no official announcement of any sorts from the family. Names like Aaliya and Abhilasha were doing the rounds before Aaradhya.
While author Shobha De earlier sparked a mini-debate on Twitter by posting the baby's name as Abhilasha, it was later denied by Amitabh himself. Abhishek too, who had agreed that the baby was named at a recent press conference, refrained from revealing when the name would be officially announced. However, what is interesting is the fact that the name Aaradhya was a hot topic for discussion on micro-blogging site, Twitter all day yesterday.
The name was trending and many Twitteratis went berserk, congratulating Amitabh and Abhishek on the site. The amusing part, however, is that some imposter has already made an account on Beti B's name. The account which reads, @AradhyaBachchan gives Amitabh Bachchan's grandchild and Aishwarya's daughter, Jalsa as the account holder's details. The account user had obviously cashed in on the popularity and some of the tweets that were posted had people in splits.