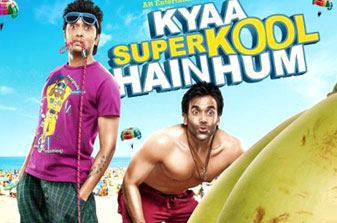 Hoping to make a big splash, the makers of the sex comedy Kyaa Super Kool Hai Hum (KSKHH) have planned to launch the movie's first look from the depths of a swimming pool. On Monday, the film's entire cast, including Tusshar Kapoor, Riteish Deshmukh, Sarah Jane Dias and Neha Sharma, will dive into the pool at a city hotel and officially launch the first look from there.

"Since the film is naughty, the idea is to make the launch naughty as well," says director Sachin Yardi. "The film has been shot in Goa and to bring in the elements of water, bikinis and glamour, we will have a few other girls (junior artistes) in bikinis as well. We didn't want to do a conventional launch. The plan is to be different, stand out and get noticed. Innovative promotional strategies help get a film a strong identity. KSKHH, already is making waves as it is a sequel to the earlier hit film Kyaa Kool Hai Hum."

Yardi denies that the film is a sex comedy, saying: "I would rather call KSKHH a wacky and crazy comedy. The humour is in a different zone from what we have seen in other comedy films." In fact, he adds, he even toned down the naughtiness factor in a few of the scenes.

"We have consciously maintained a line and haven't gone overboard," he says. "Nothing is blatantly crude or vulgar in the film. As for the double entendres, we subscribe to the philosophy that we aren't saying anything dirty but the dialogues are interpreted by people in a naughty manner."

Memorable promotions
* For 3 Idiots, Aamir Khan played hide and seek with fans for a week.
* Shah Rukh Khan unveiled Ra.One's first look on Twitter in Jan 2011, and released the trailer during the World Cup seven months before the film released.
* Aamir Khan got ushers in film theatres to sport his Ghajni hairstyle.
* Advertisements that announced 'Manisha Koirala dead' were carried in major publications for Mahesh Bhatt's Criminal.