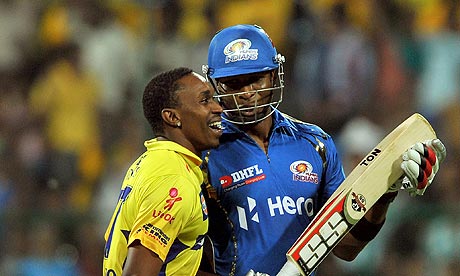 The fifth season of the Indian Premier League reaches its climax with Sunday's final in Chennai where Kolkata Knight Riders are preparing to take on the winners of Friday's semi-final eliminator between the defending champions, Chennai Super Kings, and Delhi Daredevils. Early signs that the tournament had lost its impact, failing to match even IPL 4's reduced television audience, explained away as a World Cup hangover, have been offset by record attendance figures in the stadiums and a huge surge in those choosing to watch the games online.

On-the-field matches have been closer than ever before, 18 games going to the last over and 10 settled off the last ball. Chris Gayle's mastery for Royal Challengers Bangalore has been staggering, ending with both the record number of sixes (57) in a single season and the highest run aggregate (733). RCB's over-reliance on their Jamaican talisman was plain to see, though, and their failure to rally round when he was dismissed for 27 in their final regular season game against Deccan Chargers saw them falling nine runs short of Deccan's paltry 132 and choking on a two-paced pitch in their quest for a play-off place.

Tournament records have been registered for the highest partnerships in first-, third-, fourth- and sixth-wicket stands and Virender Sehwag became the first player to post half-centuries in five successive matches. The bowlers have been equally impressive, picking up 26 man-of-the-match awards during the regular season, with Morne Morkel, Sunil Narine and Lasith Malinga all bagging more than 20 wickets. Narine, with the final to go, has 24, one fewer than the South African and four short of the Sri Lankan's tournament best 28 last year.

In terms of landmarks and drama, then, this has been a memorable tournament but one rather overshadowed by events away from the square that have fed the news as well as the sports pages throughout India. While Shahrukh Kahn's brawl at the Wankhede, as discussed on last week's blog, generated headlines, parodies and condemnation, it pales in importance beside the TV sting that seems to have exposed the willingness of five players to negotiate either their participation in spot-fixing or their appetite for regulation-busting, under-the-counter payments.

The channel India TV released tapes purporting to show that TP Sudhindra and Shalabh Srivastava had agreed to bowl no-balls, though neither did so in the IPL. Mohnish Mishra, Amit Yadav and Abhinav Bali were recorded discussing "black" payments that franchises allegedly offer as inducements to sign. All five were suspended pending a board inquiry.

With each team needing seven native players in each starting XI, the sting has exposed the flaws in the BCCI's rules limiting the maximum amount that can be paid to uncapped players. With nine teams that means 63 Indians are required, double that at least for back-ups, and it seems clear that the board stipulation that the top salary that could be earned by non-international players in the second season since their debut (£28,000) may provide an opportunity to offer something off the books to recruit a player who has enjoyed a decent first season. As ever, it is the players who are being investigated here and not the franchises, those who say they accepted payments instead of those they allege offered them.

The case of Bangalore's Australian batsman Luke Pomersbach made the news last week when he was arrested then released on bail after a US citizen alleged that he had molested her and assaulted her fiance at the ITC Maurya hotel in Delhi. Pomersbach was charged with assault but the woman's allegations have been withdrawn after an out-of-court settlement was reached on Wednesday night.

On Sunday, two Pune Warriors players, Rahul Sharma and South African Wayne Parnell, were among 96 people detained when a rave in Mumbai was busted and cocaine, MDMA and cannabis were found on the premises. They gave blood and urine samples and were released on bonds, maintaining their innocence and protesting that they were attending a birthday party at the hotel and were caught "in the wrong place at the wrong time". It has been quite a fortnight – scandals involving corruption, violence, sex and drugs dominating the coverage in India. Whether Kolkata or Delhi win their maiden titles on Sunday or Chennai complete a hat-trick, the off-field soap opera of IPL 5 seems certain to continue long after close of play.