An uncensored, racy song from the erotic thriller Jism 2, which marks porn star Sunny Leone's Bollywood debut, was released by director Pooja Bhatt on Twitter on Friday. The makers are touting it as the first official trailer of the film.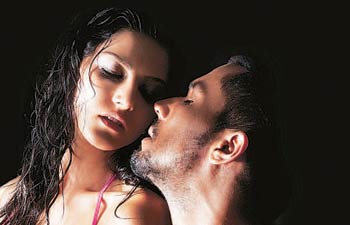 Pooja apparently decided to release the trailer after being denied permission to air it on television channels by the Censor Board. The promo is already getting an overwhelming response on the social networking site. Besides the sensuous trailer, a new poster has also been released by the Bhatts, which has Sunny striking a seductive pose with Randeep Hooda.

The song, 'Yeh Jism hai toh kya', is sung by Ali Azmat and composed by Pooja's husband Munish Makhija and Arko Pravo Mukherjee. The song too is getting a rave response on the Internet. It features Sunny in steamy scenes with her two leading men, Randeep and Arunoday Singh.

According to new directives of the censors, a filmmaker cannot buy spots on TV for a film that has been given an A-certificate. "I have no plans to tone down or 'sanitise' the song, which narrates the mood of the film for the audience. The song has caught on online within a few hours of being released," Pooja told Mail Today.

"Even in Hollywood, film promotions are kicked off on the Internet and the promos are released on television only about two weeks before release. I have started a new trend in India by releasing the trailer online and have catered to a larger number of audience, who instantly gave a positive response. Most of them have found it sensuous and are questioning the Censor Board's decision," claims Pooja.

Jism 2 is slated for release on August 3 and Pooja is right now fighting for clearance from the Censor Board with minimum or no cuts. "The Censor Board is paranoid only because the film features adult actress Sunny Leone, which is bizarre.
They are assuming the film would be too bold for the family audience. Instead of fighting the censors, I would rather have it released through DTH or through a special director's cut show. I have no intention of toning down the sexual content. I am building the Jism brand and want the adult audience to watch the film with an open mind," she says.

The much hyped Jism 2 casts Sunny as a porn star who is hired by an intelligence officer, played by Arunoday Singh, as a honeytrap to nab a dreaded assassin, played by Randeep Hooda.