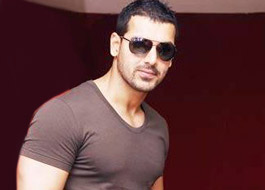 It was meant to be one 'kool' movie but it seems like Kyaa Super Kool Hain Hum is creating a lot of heat within the film fraternity. Barely had John Abraham come to terms with his beach scene from Dostana being spoofed by Tusshar, it's the turn of Riteish Deshmukh to fire up the generally cool hunk all over again.

"There is a scene in the film where Riteish mistakes a white substance in a small container for 'Shrikhand'. Anupam Kher clarifies that the container was from Vicky Donor. The reference is pretty straightforward and though it is in jest, John has made a note. He is very attached to Vicky Donor as it is his first production. He laughed off Tusshar's butt incident as a spoof is the best form of flattery. Moreover it was a harmless take-off. But he is not happy about the spoof on Vicky Donor," informs a source.

Adds the source, "John and Balaji share a professional equation and they are working together for the first time in Shootout At Wadala. They plan to work together in the future as well and therefore he reckons that it is best to let it pass than to unnecessarily take umbrage." Says Ekta Kapoor, "I don't think John is upset so I don't know where this is coming from. There are spoofs on various films in Kyaa Super Kool Hain Hum. We haven't even spared The Dirty Picture. The jokes are naughty alright but in a lighter vein!"