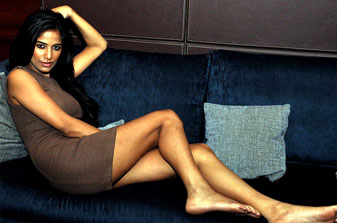 Poonam Pandey never ceases to amaze. With her bold statements, juicy Twitter updates, and most of all- her racy pictures, she hogs the spotlight one way or the other. This time too, she has presented us with two sexy shots, showing off her ample cleavage.

The starlet tweeted her pictures this morning, saying, 'Tweethearts .... have u ever seen ne thing as HOT as this in INDIA.' For the second one, she went a step ahead, saying,'Tweethearts howz this one .... if its hot retweet. If you think its hotter favorite it ... let me c.'

Poonam Pandey posted this picture on Twitter today. Just two days ago, Poonam Pandey tweeted pictures from her photoshoot which saw her in a skimpy, white bikini. In the photgraphs the sexy model has tweeted today, she is looking into the camer awith a seductive expression and a pout on her lips.

She is in a halter neck, black and white striped bra or a dress- it is difficult to tell as the focus of the picture is where the starlet intends it to be- her boobs. Her long tresses are let loose and are falling all over her face. She chose to fo gr dark eye make-up and bubble-gum pink on her lips. For the third picture, she remarked on the microblogging site Twitter, 'Love Clicking myselfffff'

With Sherlyn Chopra grabbing eyeballs everywhere because of her hyped Playboy appearance, and Sunny Leone being in the limelight because of her soon-to-be-released, erotic movie Jism 2, is this busty overload by Poonam Pandey her reply to the other starlets?

Our guess is as good as yours! MORE ON POONAM PANDEY Poonam Pandey treats fans, tweets bikini photoshoot pics Poonam Pandey is busy giving stiff competition to Sherlyn Chopra (who recently posed nude for Playboy). The starlet is tweeting haute pictures of herself in a white two-piece with black polka dots.

Bipasha's a loser, men are not: Poonam Pandey Reacting strongly to a recent interview given by Bipasha Basu where she calls all men losers, model Poonam Pandey criticised the actor's comments on micro-blogging website, Twitter. READ MORE Find the G-Spot: Poonam Pandey to God particle scientists

While the whole world is gung-ho about the discovery of God particle, starlet Poonam Pandey is more interested in the equally elusive G-Spot. She has in fact challenged the scientists to locate it. READ MORE Poonam Pandey tweets racy pics on International Bikini Day As the world celebrated the International Bikini Day on July 5, our very own model Poonam Pandey is making merry on Twitter by posting racy pictures of herseelf- exclusively in a bikini.