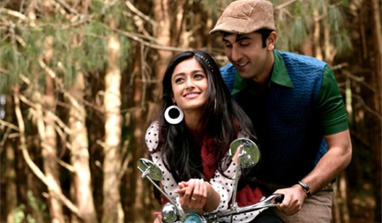 Anurag Basu's 'Barfi!' is making the right kind of noises in the industry. This Ranbir Kapoor-Priyanka Chopra starrer film got a very positive response when the first teaser was released. And since then the curiosity over the film has just been growing.

The makers of the film released the title song of the film on Friday and by the looks of it, the song and film has sweet old world charm to it. Mohit Chauhan has sung 'Ala Barfi!' to the tunes of Pritam. The song features the lead cast-Ranbir, Priyanka and south actress Illeana D'Cruz. Ranbir plays a deaf and dumb man while Priyanka plays a girl with autism.

Even though two of its protagonists are handicapped in the film, Basu makes the premise heartwarming and endearing and almost comical. While Handicap in Hindi films is dealt mostly on a serious note, but here Ranbir is seen doing funny antics throughout the video.