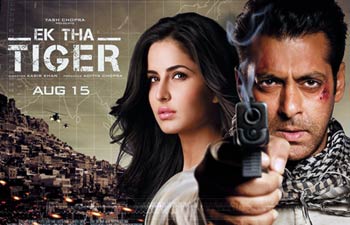 Salman Khan and Katrina Kaif's Ek Tha Tiger has now crossed the Rs.200 crore mark as well in less than a fortnight. The film, released on August 15, was screened at 3300 screens across the country. The film also stars Girish Karnad, Roshan Seth and Ranveer Shorey. The story is written by Aditya Chopra.

The 46-year-old actor plays a RAW agent in Ek Tha Tiger and he says he chose the film not because of the banner or star cast but because of the script. Salman says he likes it when his movies are larger than life and whether its romance, drama or action, he will continue depicting heroism.

Mystery behind Katrina's red tilak revealed! Katrina Kaif recently grabbed headlines not for her performance in Ek Tha Tiger but for the tilak she sported at private screenings of this film. According to sources, the tilak was nothing more than a religious one, applied to her forehead during a pooja she attended.

Katrina Kaif is these days celebrating the unprecedented response her recent film Ek Tha Tiger is receiving. No sequel to Ek Tha Tiger Despite the ending of Salman Khan starrer superhit film 'Ek Tha Tiger' leaving a scope for a sequel, the makers have denied any such move.

"We have not thought of a sequel for 'Ek Tha Tiger'. We don't have any idea (story line) for the sequel," Kabir informed. Even the producers have denied making a sequel. "With the success of the film, it would be the obvious conclusion for anybody to assume that the film deserves a sequel. However, as of now, there are no such plans and it is more conjecture," Yash Raj Films' vice president (marketing and communications) Rafiq Gangjee said.